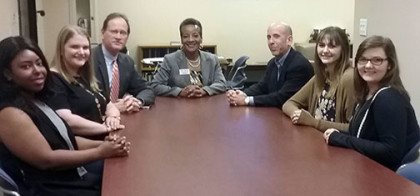 Valencia Breckenridge, CEO and President of Nashville based nonprofit organization GraceWorks Ministries, Inc. spoke to UTM communications faculty and students on Tuesday, Feb. 21 as part of a PRSSA sponsored event.
GraceWorks Ministries is a nonprofit organization located in Franklin, Tennessee, that provides long-term and short-term assistance to those in need in the form of family support, instructional needs, seasonal needs and hunger prevention.
Breckenridge, who has a MBA from Northwestern University and has previously worked for charitable foundations Feed My Starving Children, Opportunity International and Pioneer Clubs, was invited to speak by public relations lecturer, Andrew Brown. The two met through Graceworks where Brown, who has 30 years of experience working with nonprofit organizations, served as Director of Operations and Interim President.
"I find her to be passionate about her work, and engaging to many audiences," Brown said. " …  I felt she, like me, enjoys investing in others."
As the first in a two-part series for the day, she spoke at 12:20 p.m. about self-marketing for employment in the nonprofit industry.
During the "Brownbag Lunch Talk" she discussed her history and obstacles she faced that put her on the right path to working in the nonprofit industry.
Breckenridge was born and raised in inner-city Chicago and was the only one of five children to earn a college degree. She recounted working in "the basements" of MidWest Securities and Northern Trust Corporation after being denied entry to 12 medical schools and she also recalled hitting the glass ceilings as a female African American banker.  After two recommendation refusals to apply for an officer training program for which she was more than qualified, she left Northern Trust and worked for United Healthcare for a short time.  She moved on to become the executive director for a local crisis pregnancy center after seeing the position advertised on her church's bulletin board.
"Here was my entry level drug to nonprofit, frankly. That was 26 years ago," Breckenridge said. "I looked at the job description and thought, I had nothing that job asked for."
The flier called for someone with management experience, strong nonprofit and fundraising experience and a degree in nursing or psychology. Regardless of this, she applied for the position anyway.
"I wrote a two-page cover letter that began with, 'Ignore my resume. I'm submitting it because you require it. May I instead share my heart,'" Breckenridge said. "And I spent the rest of the letter telling them why I was a good candidate for the job."
She was hired for the job and her ache for medicine intensified. She reapplied for medical school in her 40s and was again denied. Later she was invited back to the University of Illinois University to participate in a program created through a grant to attract nontraditional students. Participants did a year of graduate level science and were accepted into the school's medical program if they received at least a B in all of their classes. She made a C in microbiology and sought counseling services for depression.
"One of the things the counseling helped me to know about myself, what I always suspected was true and that is, I want to serve," Breckenridge said. "I thought I was going to serve in medicine. I am delighted that God has allowed me to serve in so many ways in nonprofit. It is an amazing field."
At 1 p.m. she took part in a luncheon with PRSSA officers and Communications faculty members.
"I was glad to have a professional, especially of her caliber, come and talk to the organization," said Holly Seng, PRSSA President and junior Communications student. " … Having the lunch hour gave members the added benefit of getting to spend more time and have those more in-depth conversations."
Breckenridge also sat in on the Non-Profit Public Relations Course at 2:30 p.m. and spoke about fundraising and building relationships with donors. She defined fundraising as connecting people with their passions and believed that you cannot ask people to give to your organization if you are not doing so yourself. She also spoke about the importance of thanking people and reciprocity.
To learn more about GraceWorks Ministries, visit http://graceworksministries.net/.
CEO and President of nonprofit organization, GraceWorks Ministries, Valencia Breckenridge (center), pauses with PRSSA members and faculty (from left to right) Angel Riley, PRSSA secretary; Holly Seng, PRSSA president; Robert Nanney, Communications department chair; Andrew Brown, Communications lecturer; Brooke Boshers, PRSSA vice-president; and Emma Bruner, during her visit to UTM on Feb. 21. (Pacer Photo/Kristina Shaw)