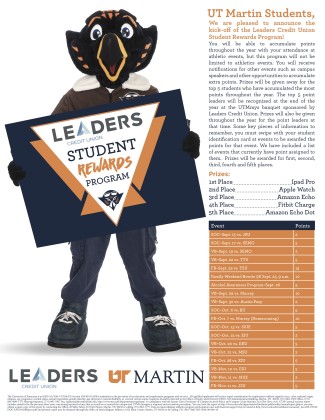 On Sept. 13, John Abel, the Assistant Vice Chancellor for Student Affairs, sent an email to the entire student body outlining the details of the new Leaders Credit Union Student Rewards Program.
Leaders Credit Union will be sponsoring the awards and the awards banquet for the program which opened on Friday, Sept. 15. The rewards program creates more incentive for students to attend sporting events, academic speakers and more by involving students in a friendly competition to collect the most points.
Points are earned by attending different events at UTM that will be announced through the UT Martin Skyhawk Club Facebook page (@SkyhawkClub). The point value differs for each event and students must swipe in using their university identification for their points to be added. Students will swipe for points at a specified location at each event. They can find this spot by looking for the life-size Captain Skyhawk.
Throughout the year as more events are developed for points, their flyers and social media information will be marked with the Leaders Credit Union (LCU) Student Rewards Program mark, which is a cutout image of Captain Skyhawk holding the LCU sign. An agenda was also sent out to students to help them keep up with how many points each event is worth. Events range in value from two to 15 points per activity.
This program was inspired by the student incentive program that SGA discussed at the end of the Spring 2017 semester. However, the new program is sponsored by Athletics, with Lora McDonald, Athletics Administrator, as the coordinator.
"Friday night was our first soccer game awarding points and we had 107 students swipe for points," McDonald said about the new program. "At Sunday's game we had 73 swipes."
Students have already begun to get involved with the program and McDonald hopes to have an OrgSync page created for it very soon. The OrgSync page would include updates and the schedule of events. McDonald also hopes to have a webpage available by January that would allow students to check how many points they have earned as it progresses. As of right now the points are only tracked by student I.D. numbers and therefore only available to herself and Abel.
Prizes will be awarded periodically throughout the year to the leaders of points at that time. Leaders Credit Union will also be hosting an awards banquet at the end of the spring semester to award the five students with the most points.
Prizes include an iPad Pro, an Apple Watch, an Amazon Echo, a Fitbit Charge and an Amazon Echo Dot. These prizes will be awarded for first through fifth place, respectively. All prizes are sponsored by the Leaders Credit Union which is a new corporate sponsor of UTM Athletics.
Any student who has suggestions of events to be added to the list of point-earning opportunities can reach out to McDonald at 881-3630 or Abel at 881-7710.