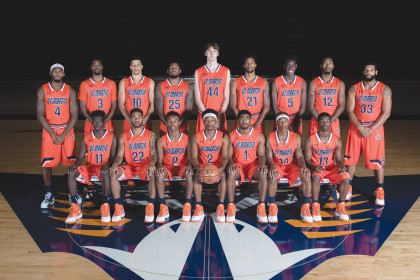 Last year, the Skyhawk men's basketball team reached great heights, winning the OVC West Division title and advancing to the Ohio Valley Conference tournament championship game for the first time in program history.
The 2015-16 season was a historic one for the Skyhawks, as they finished the season 20-15 overall and returned to the CIT tournament for the second straight year.  However, a lot has changed since March, and the biggest change this season came at the head coaching position.
Former assistant coach Anthony Stewart was officially appointed as the 10th head men's basketball coach in UTM history after former head coach Heath Schroyer left to take an assistant coaching position at North Carolina State.  Stewart has been with the program for two years, first as an assistant under Schroyer, and was named interim head coach after Schroyer's departure.  The interim tag was officially lifted on Nov. 3.
"It's been a very smooth transition," Stewart said. "It's been relatively fast-paced as well. When I took over, I took over after coach Schroyer left for NC State so I had to keep the guys together and keep us on the same page. I can honestly say it's been a really good transition. … I've been a part of this team for three years now, so I'm very familiar with the players, the administration, the community, and so that was key for me."
The Skyhawks also lost some major firepower from last year's squad, including their three leading scorers: Twymond Howard, Alex Anderson and Myles Taylor.
However, the Skyhawks have several talented players returning from last year's squad. Redshirt senior Kedar Edwards, who averaged 8.2 points per game and 7.1 rebounds per game, is the only player returning from last year's starting five.  Another player the Skyhawks will rely on this season is redshirt senior Jacolby Mobley.  Mobley averaged 10.8 points per game last season and was named the OVC's Sixth Man of the Year by HoopsHD.com.  Also returning from last year's squad will be Chandler Rowe, Fatodd Lewis, Malik London, Javier Martinez and Nick Detlev.  The Skyhawks also added nine newcomers to this year's roster.
"I really like our depth," Stewart said. "We have a little more depth at each position as opposed to the last two years where we only played six or maybe seven guys. I also like our ability to score. In the past, we had a couple of main scorers but we could possibly have five guys on the floor at any time that can score this year."
This year will definitely be a rebuilding year for the Skyhawks, but Stewart is willing to take that challenge head on.
"If I look at what the media thinks, clearly we have a lot of work to do," Stewart said. "We've got to garner and earn the respect of those outside of our program and our community.  I myself as well as my coaching staff and my players, we know what kind of a basketball team that we have, the hardworking players that we have, the players know what we have but we have a lot of work to do. … I'm very excited for the season.  I'm looking forward to competing this time of year just like everyone.  You get a little bit tired of going against each other; now it's time that we start playing against some different colored jerseys."