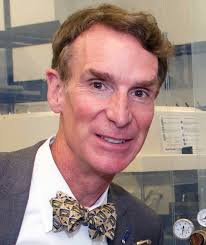 Bill's back, and he's here to save the world.
If you were a student in the early 2000's or late 1990's, there's no way you don't remember the implication of a massive, black, school-owned TV being rolled in during your science class.
Suddenly, the mood of the classroom shifted, and as if from the core of your being, you heard the shout, "BILL! BILL! BILL! BILL BILL!". It was at that precise moment you knew that day was going to be a good day.
Now, if you have strangely vivid memories of the above, completely disregard them, and if you weren't lucky enough to experience it, buckle up, because Bill Nye the 'Science Guy' is back, and he's not pulling any punches.
"We're not really making a kids' show, it's for you grown-up kids all over the world," Nye said. "We're gonna be talking about important, perhaps even controversial issues from scientific points of view."
Long gone are the days of Bill Nye the Science Guy explaining how a baking soda volcano works, the water cycle and the human muscular system. Nye has returned to television screens across the world with an investigative talk show that tackles hot topics in science to dispel myths and provide entertaining educational viewpoints.
After a new catchy signature theme, courtesy of Tyler the Creator, Nye starts the show in a science lab set-up in front of a live audience to the very same percussive "BILL! BILL! BILL! BILL BILL!"
It's easy to write off a talk show as nonfactual when the host is openly opinionated about several of the topics. In response, the show often features a segment titled "Bill Needs a Minute." During this segment, Bill Nye speaks directly from the heart about his opinions on GMOs, global warming and Twitter bots. Nye's passion for science shows in every minute of the show, and his opinions are all rooted in testable fact. Because of his matter-of-fact manner, some of the content in Bill Nye Saves the World may be offensive to certain audiences.
While he's very opinionated, Nye does try to present different sides of each topic. Near the end of each episode, professionals with differing opinions are assembled onto a panel of experts to answer questions and express their viewpoints on different topics. In a panel discussing ideas surrounding extraterrestrial life, Nye assembled Moogega Cooper, a planetary protection engineer at the Jet Propulsion Lab who earned a Ph.D. at age 24; Hakeem Oluseyi, who is arguably most well known for his programs on the Science channel, but is also Space Sciences Education Manager for NASA; and Wil Wheaton, a recurring actor in the TV series Star Trek: The Next Generation.
Through conversations with a range of science-minded professionals (and mediocre Starfleet cadets), Nye works to shed new light on topics that are well-known but not so well-understood by the general public.
"Bill Needs a Minute" and his "panel of experts" are trademarks of each episode, but there's more to the show than just those two elements. In typical Bill Nye style, he manages to insert a lot of sections into every 30 minute episode, differentiated by set changes or catchy intros. One of these segments showcases a new piece of technology relevant to the topic at hand. In episode 3, "Machines Take Over the World", Nye interviews a Microsoft technology developer on his work with artificial intelligence to provide assistance to the visually impaired. Saqib Shaikh, the tech lead for the "Seeing Ai Project", showcases the technology he developed after losing his sight, that can photograph anything around him, and then automatically describe what's pictured out loud. Along with another member of the team, they explained the application and future of artificial intelligence in potentially transforming the lives of people with physical disabilities.
It's already been said that Bill Nye's newest show has a lot of high-profile guests, but Nye makes a very distinct point to include younger generations in each episode. Bill Nye has amassed a group of millenial correspondents for BNStW who produce a blend of comedy and science. Emily Calandrelli, Joanna Hausmann, Derek Muller, Nazeem Hussain and Karlie Kloss travel everywhere from the local farmer's market to India to try to get different people's points of view on a given topic.
Don't worry if you watched Bill Nye the Science Guy for the onscreen science experiments, because he's performing similar ones with Steve Aoki or Alton Brown. Never fret if you watched his 90's program for Nye's signature goofy sense of humor, because BNStW proves it would have to be pried from the scientist's cold, dead hands. If you've never seen any of Bill Nye's programming and you've always wanted to hear a man scream about science, this show is an excellent place to start.
(Photo Credit/creativecommons.com)