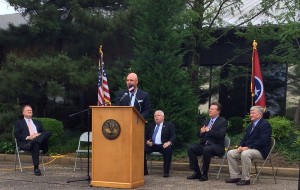 Yesterday MVP Group International announced they will be bringing 100 new jobs to Union City and the surrounding area.
The Charleston, South Carolina based company announced Tuesday that Union City will be home to its housing and distribution center for its family of products, which includes Colonial Candles. The company is the largest private label candle manufacturer in the world with close to 3,000 employees worldwide.
"It goes without saying that we obviously had a choice in where we chose to locate our distribution facility," said Troy Propes, president of MVP.  "I would be lying to tell you that I wasn't biased [in deciding to bring the facility to Union City]."
The new distribution center is located 35 miles northeast of the company's current candle manufacturing facility in Mayfield, Kentucky, which is also where Propes's family is from. The new warehouse is also 12.5 miles from their recently opened Fulton, Kentucky candle operation.
"It is a great day for the city of Union City," said Terry Hailey, mayor of Union City.
MVP Group International includes several other divisions.  MVP Brands, which is home to trendy products in the toy and gift industry.  Both the Paula Deen and Harry and David Candle Collections can be found in many fine retailers nationwide. Freshens is a complete line of odor eliminating candle and home scent products. Cleaning With a Conscience is a line of natural cleaning products for the home.
Anyone wanting to apply for a job should go to Goodwill Career Solutions in Union City at 1430 S. First Street. For more info go to www.mvpgroupint.com
Featured photo: Lyndsey Hayslett