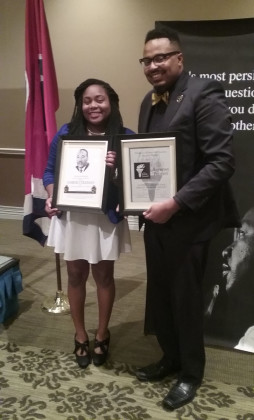 UTM faculty, staff and students gathered with members of the community and elected officials to honor the civil rights leader on Martin Luther King, Jr. Day, Jan. 16 at 9 a.m. in the University Center ballroom.
The fifth annual ceremony was called "A Celebration…Dream with a Vision, Live with a Purpose" and was coordinated by the UTM Black Student Association and the City of Martin.
Dr. David Belote, coordinator in the Office of Student Engagement and also the City of Martin Alderman, emceed the event.
"This day, the MLK Jr. holiday, celebrates the life and legacy of a man that brought hope and healing to America," said Belote. "We commemorate as well the timeless values he taught through his example. The values of courage, truth, justice, compassion, dignity, humility and service that so radiantly defined Dr. King's character and empowered his leadership."
Opening remarks and welcomes were given by Martin mayor Randy Brundige, UTM Chancellor Dr. Keith Carver and BSA president Corri Chanel Oliver.
Pastor Jackie Thomas of Oak Grove Missionary Baptist Church gave the invocation for the ceremony.
Dr. David Barber, associate professor of History and Philosophy, followed to speak about the importance of the up-coming Civil Rights Conference and challenges that still exist today. The conference's next planning meeting will be at 4 p.m. on Thursday, Jan. 19 in Humanities room 211. All are invited to attend to "help continue the work of Dr. Martin Luther King," said Barber.
The event hosted two keynote speakers, beginning with Kameron Echols, senior Criminal Justice major. Echols posed the question of what it means to dream with vision and live with purpose.
"Vision without action is merely a dream," said Echols, quoting artist James Christensen. "Action without vision passes the time, vision with action can change the world."
The second keynote speaker of the morning was Beverly Claybrooks. Claybrooks was born in Lansing, Michigan and moved to Martin as a young girl with her family to be close to her grandparents. She currently teaches in Hickman, Kentucky, and has held the positions in the metro-Nashville school area, at Sharon Elementary and at UTM as an adjunct professor of education. She also worked for the State Department of Education during the summers as a teacher skills enhancement trainer. Over the years, she has been recognized with several awards including the Who's Who among American teachers. She's also written one book, "The Hands of Time" and is finishing another called "The Wonderful World of Teaching Through My Eyes."
Claybrooks questioned if it can be said that Dr. King's dream has been realized, recalling her own experiences with segregation in Martin. She remembered the side, brown door of the Varsity theater that colored people had to enter and having used schoolbooks, along with late night band practices paid for by parents.
Despite it all, she remembered the "heroes" in the community that made change happen, including Rev. Harold Connor, who was also her algebra teacher.
"He would say, 'Bev, you know you can solve for the unknown, all you have to do is put your mind to it,'" said Claybrooks. "'You work hard. You work hard and you will reach your goals.  Never give up. You've got to be the best that you can be every single day of your life.'"
Awards were then presented. Dr. Henry Parker, professor of History and Philosophy received one of two Alpha Awards. The other was given to student Jemese' Coleman. The Black Student Association Torch Award was given to Anthony Prewitt, Office of Housing Hall Director.
Brundige presented Martin resident Clara Hamilton with the Harold Connor City of Martin Award for her involvement in the community serving in roles such as member of the We Care Ministries board.
All in attendance joined to sing "Life Every Voice and Sing" lead by Johna Jackson, senior Music Performance major accompanied by Dr. Danny Donaldson who also performed "Give Me Jesus" and "I Am Changing."
"I thought that it was a great cause, and to see so many diverse colors joined together as one for the same purpose is really heartwarming," said Jackson. "It gives you hope that the world is going to keep evolving and keep changing to be better."
The event concluded with a march beginning in front of Watkins Auditorium.
"[The event] left us all with a feeling of hope and it left us also with a charge that we must continue on," said Claybrooks. "We must help each other. We must do better because the dream still has work that must be done."
Feature photo: Jemese' Colelman and Anthony Prewitt were two of this year's award recipients at the annual Martin Luther King Jr. breakfast on Jan. 16, 2017.  (Photo Credit/Kristina Shaw)