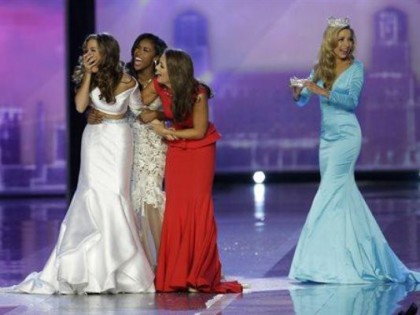 Miss Tennessee 2015, Hannah Robison, won over the crowd at Miss America Sunday night, was voted America's Choice before ultimately finishing seventh in the competition.
Robison is a senior Chemistry major at UTM.
Robison was the first contestant to be announced in the top 15 semifinals by virtue of being selected as "America's Choice." The top 15 contestants were chosen from the preliminary categories that they competed in throughout the previous week. Their composite score counted for 25 percent of the finals competition scoring.
Robison got off to a strong start in the first phase of competition, "Lifestyle and Fitness," also known as the swimsuit competition. Miss Tennessee wore a bright pink swimsuit, and earned enough favor with the judges to advance to the top 12.
For the second phase, the evening wear competition, Miss Tennessee wore a red evening gown by Tony Bowls. She was then called to be among the top 10.
Robison played Liberace's "El Cumbanchero" on the piano for the talent portion of the competition. Her piano work was more than enough to secure a spot in the final round.
During the final stage of competition, the remaining contestants are asked an on stage question, which counts for 20% of their overall score.
Former Miss America Vanessa Williams directed her question to Miss Tennessee.
"Some legislators are threatening to shut down the government over federal contributions to Planned Parenthood, even though no federal funds can be used for abortions," said Williams. "Should Planned Parenthood funding be cut off?"
"I don't think Planned Parenthood funding should be cut off," Robison said in response. "The $500 million that gets given to Planned Parenthood every single year goes to female care. It goes to screening for cancer. It goes for mammograms. And if we don't give that funding to Planned Parenthood, those women will be out of health care for reproductive causes."
Miss Tennessee 2015 did not walk away with the crown.  Instead, Miss Georgia, Betty Cantrell, was crowned Miss America 2016. However, Robison did receive $9,000 in scholarships. In addition, she was awarded the first runner up in the Quality of Life Award for her platform, Campaign Against Pain: Arthritis Awareness.