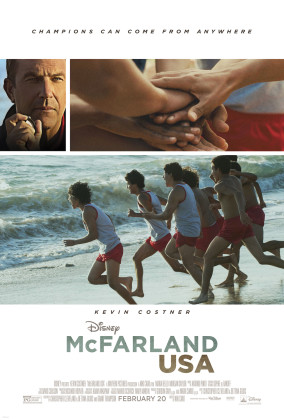 McFarland, USA is an incredibly inspirational movie that is based on a true story about a cross-country team in a very poor, small town in California.
Jim White(Kevin Costner), a selfless coach, brings to light the struggles of these young boys and opens up a whole new world to them. The heart of the movie surrounds family, friends, school and true survival. This is a motivational movie that everyone should see.
In this movie, you see the heart and dedication of economically troubled kids who complete a day's work before they even make it to school just so that they can help support their families. This is a feel-good movie that opens your eyes to the lifestyle that most people could not imagine. It allows the audience to acknowledge the true meaning of hard work along with real dedication.
The young group of boys that Jim White works with to form a cross-country team did not have much of a future other than being a "picker." Coach White gave them a chance for a future when he developed a cross-country team out of nothing but pure vision. He saw how hard these boys worked and saw them constantly running with determination to get from the fields to school. The coaching skills used are truly inspirational for life itself as well as in sports. It is also a heartfelt movie about a family that sticks together after enduring so much hardship when their father bounces around for teaching and coaching positions. The true value of friendship pours out in this movie through so much love and welcoming arms.
The young men that this movie is about are truly amazing individuals. One of the best parts of the movie was having a flashback of the real coach and the success that he brought to McFarland. He brought the town so much more than a coach and another family. He brought the small town big hope.