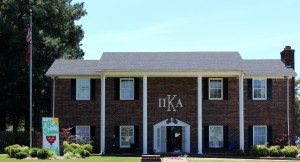 Martin Police responded to a call Thursday, June 12 about the UTM chapter of Pi Kappa Alpha fraternity house being vandalized.
"Upon arrival I [Patrol Officer Jason Arant] observed a front sign, column, window and front doors to have be spray painted with black paint. The front sign was spray painted with the words, 'U suck.' The column was spray painted with 'F—- u.' A smiley face was spray painted on the window. The front doors was spray painted with a pentagram," according to the police report.
The report also states that Lt. Brooks took pictures of the vandalism that was estimated at $110.
There is currently no visible lingering evidence of the vandalism to be seen at the Pike house.
"The vandalism occurred between 2 a.m. – 5 a.m. [Thursday morning]," said Pike president Jacob Harris, a junior Health and Human Performance major. "It was childish behavior. We had everything cleaned up three hours after the police left."
Featured photo credit: Sheila Scott