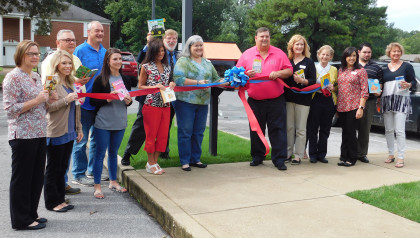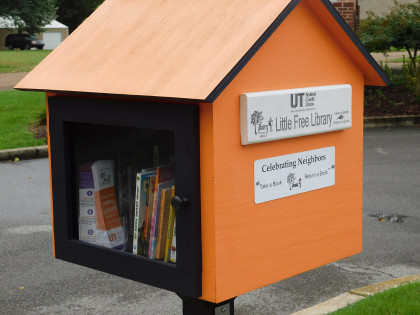 At 10 a.m. on Sept.1, friends, community members and local government officials gathered in the lobby of the UT Federal Credit Union to celebrate the opening of their Little Free Library.
"Our main goal is to help people find solutions for their financial needs for their lifetime, but in addition to that we have a very strong desire to partner with anything education related, and this is another avenue that we see that we can enhance that for our members and not just for our members but for the community," said Federal Credit Union branch manager, Karen Hicks.
The little structure sits outside the building located at 103 Hurt Street and is filled with books of all genres for readers of all age. The books are free and can be kept. Takers can also bring one of their own books to replace it as part of what Hicks called a "community sharing program."
"With this those books don't belong to us, they belong to the community, so they can take a book and if their child falls in love with it, they're welcome to keep that book and then bring another one in return if they wish," she said.
Books are stocked and supplied by the credit union.  Workers took donations from clients and from other UT Federal Credit branches in Knoxville and Memphis, when they found out about the library at a weekly manager's meeting.
Hicks got the idea to create a Little Free Library after seeing one in Audubon Park in Memphis while on vacation with her family in June 2016.
"My three grandkids just got excited about it and I thought 'That's something we could do,'" said the manager of 16 years.
She took pictures of the structure and gave it to their marketing director, who enthusiastically passed them on to CEO, Debbie Jones, for approval.
The library is not restricted by hours of business and is also equipped with a place to leash pets for those that walk their pets in the neighborhood.
"It's a neat idea, a cool concept," said Director of Community Development, Brad Thompson, who has since had several Martin Business Association members approach him about having a Little Free Library on their property. "It encourages reading and easy access to reading."
It is also registered with and certified by the national Free Little Library non-profit organization located in Wisconsin.
"I think our businesses here care about the community as a whole and specifically our youth and trying to provide them ample opportunities to grow and learn and become productive citizens," said Charley Deal, UTM Alumni Relations Assistant Vice Chancellor and credit union board member who mentioned books of his own that he would donate.
Mayor Randy Brundige was also in attendance.
"We're really thankful to have the credit union here in town and we're thankful that you think about the community when you do things," he said.
Though the library has officially opened today, it has already been re-stocked and utilized by members of the community. Among these are Hicks' three grandchildren.
To learn more about the Free Little Library or to donate call the UT Federal Credit Union at (731) 587-5451.
Community members celebrate the opening of the Little Free Library with UT Federal Credit Union branch manager (center left) and Martin mayor Randy Brundige (center right) (Pacer Photo/Kristina Shaw).