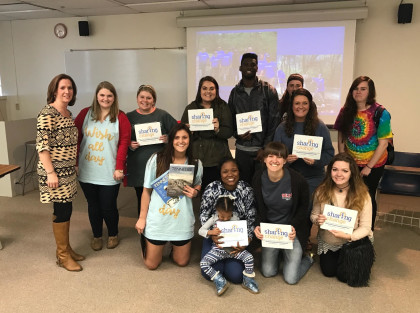 Mandy Pinion, Energy Programs Coordinator at Middle Tennessee Electric, spoke to the UTM non-profit public relations class on Thursday, March 23.
Middle Tennessee Electric is an electric company that provides electricity services while while striving to build positive relationships with their members. They service four counties and read 216,000 meters.
Pinion graduated from Middle Tennessee State University with a Bachelor of Science in Speech Communication and Rhetoric, and is currently attending UTM to get her Masters degree in Strategic Communications.
She spoke to professor Andrew Brown's non-profit class about building relationships, crisis management and the non-profit organization that stems from Middle Tennessee Electric. Pinon has been working for Middle Tennessee Electric for nearly 14 years.
"Your job never stops at relations, instead of public relations, it should be public relationships," Pinion said.
Pinion then began to discuss crisis management, where she included a story from this week's storm that went through middle Tennessee and left 6,800 members without power. However, according to Pinion, because of the strong, positive relationships that they have with their members, they received no negative backlash from those affected.
MTE also has a non-profit organization within their non-profit.  They began Sharing Change, which is optional, and gives their members the opportunity to round up their electric bill to the nearest dollar. This change in turn goes to the local community in efforts to help others.
The non-profits slogan is "Absolutely the easiest good thing you will ever do." Individuals who opt in and participate in the program are guaranteed by MTE to never spend more than $10 per year.  As the slogan says, this is an easy, non-expensive way that members are able to give back to their community.
"It was a privilege to have Mandy come to our class and discuss member relations in non profits. I hope to continue to bring professionals into the classroom to expose students to the real world job market," Brown said.
To learn more about Sharing Change, visit http://www.mtemc.com/pages.cfm/name/c02_sharingchange.
Non-Profit Public Relations students stop for a photo with guest speaker, Mandy Pinion (far left) and their Sharing Change mousepads. Pinion is an Energy Programs Coordinator at Middle Tennessee Electric and is currently enrolled at UTM to earn her master's degree in Strategic Communications (Photo Credit| Jacey Bomar).