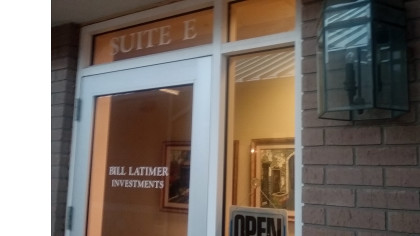 Nestled among the UT Memphis Dental Clinic on 201 West Main Street, Suite E, in Union City, Tennessee, sits Bill Latimer Investments Inc.
Inside this office works William H. Latimer III, the namesake of UT Martin's new upcoming STEM building.
The naming of the Latimer Engineering and Science Building was approved by the UT Board of Trustees on Oct. 14, 2016 in light of the family's $6.5 million donation.  The sum is recorded as the largest in UTM history, and provides the 10% match of construction costs mandated by the Tennessee General Assembly to begin building. This percentage was changed from 25% during the most recent legislative session. The university was given a year to come up with the funding.
The 120,000 square foot building will be constructed at the east side of the quadrangle, and will serve as home for the growing science and engineering programs.
Latimer decided to contribute to the project after seeing mention of the need in a UT magazine. The choice was made due to a combination of reasons, such as his love of Obion County, family ties to the university and personal faith.
"I think that if you have been blessed by God, you need to use your blessings to bless others," Latimer said. "UTM needed it and I think the area needed it. I would think and hope that more students would come and take engineering here, and then maybe find jobs in the West Tennessee area and settle here."
The donation is one of a string of community charitable donations, which include a $3-4 million gift for the Obion County Library in 1997, $4 million to the Middle Tennessee Council Boy Scouts of America in 2007, gifts through the Bill and Carol Latimer Charitable Foundation and funding to establish the dental clinic.
When Latimer heard two years ago that Tennessee governor Bill Haslam requested the set-up of UT dental schools to help the underprivileged, he drove to Memphis to make the case for Union City to dental school dean Dr. Timothy Hottel, who agreed to visit and consider the area.
"When there is a possibility of getting something great for your community, you want to do everything you can to see that it happens," Latimer said. "We told the dean that we would provide whatever he needed."
This included remodeling an office space, buying new equipment and making an annual donation to the clinic for every year that they reside in Union City.
During the first year of its existence, the clinic had 1,300 patient visits.
Latimer also spoke of his respect for interim chancellor Dr. Robert Smith as a reason for his contribution.
"I didn't want Bob Smith to have to go around trying to get money up for this building and take his time away from getting UTM back to where it needs to be," Latimer said. "He has done a tremendous job and solved lots of problems. If we could help him help UTM like this, then I think that it is a win-win for the university."
Latimer has lived in all his life in Obion County, and describes himself as a "small town person." He was born in 1938 and had an older sister, Jenny. He attended UT Knoxville to earn a bachelor of science in Industrial Engineering, and also attended UTM as a summer student in 1958. His uncle, William Henry Latimer II, attended the then-University of Tennessee Junior College in 1930, where he played football.
In continuation of family attendance, two out of three of Bill's sons also attended UTM. The oldest, Bonn Latimer, earned a Bachelor of Business Administration with a concentration in Data Processing. The youngest, Doug Latimer, completed a Bachelor of Science in Agriculture Business.   They currently reside in Nashville and Union City. The middle son, Michael Latimer, graduated from Yale University and resides in Los Angeles, California.
In 1963, Jack Hudgens, owner of Waterfield Grain Company, asked Latimer to come work for him. Hudgens sold the company to the Union City native in pursuit of doing mission work in 1968.
Over time, the UTK graduate has held positions such as trustee of Blue Cross Blue Shield of Tennessee, chairman of the Administration Board of First United Methodist Church and member of the Union City School Board for three four-year terms.
During this time, an older gentleman respected by Latimer came into his office and questioned him about his life's purpose and the most important thing in life. He was told not to answer but to think about the questions.
"Twenty years later and hopefully 20 years wiser, I came to the conclusion that the most important thing in life is to seek and do the will of God and to take the talents that God has given to each of use to help spread the gospel of Jesus Christ," Latimer said.
Along with his wife Carol and son Doug, he operates Bill Latimer Investments. Additionally, he is currently a shareholder of Obion Grain Company Inc., Mayfield Grain Company, Burgess Brothers Gain Company and the Dyersburg Elevator Co.
"We try to do things that will make a significant difference in whatever we do," said Latimer. "God has blessed me much more than I ever expected and much, much more than I deserve."
A set of cabinets in his office speaks volumes to this. They are filled with Christian motivational books that he likes to give away to visitors, friends and coworkers.
In his spare time, he continues his work, though he says he thinks he is about ready to slow down a little.