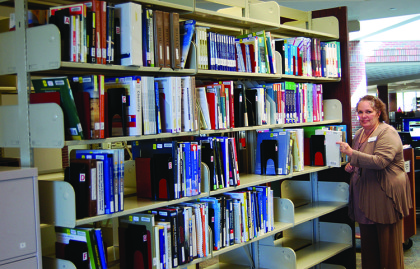 It is no secret that textbooks are expensive but necessary for college, however, many college students cannot always afford the price tag that is attached.
Behind the main circulation desk of the library, librarians Janie Crews-Jones and Linda Martin operate the reserves, a collection of textbooks from dozens of departments all over the campus, dedicated to assisting college students with their access to textbooks.
The reserve is a collection of textbooks from many different departments that is designed to be a free of cost library resource for students. All books in the Reserve are not paid for by the students or library, but by the individual departments on campus that donate the books.
"It is not a requirement," said Crews-Jones.
Many of the books in the reserve are donated by the professors for their students to use. Each of these books are on reserve to assist any student that does not have access to the course textbook.
"If it's on reserve it is available for the students to use," Crews-Jones said. She explained that some professors will place their personal copy of a textbook in the reserve.
"Sometimes they will have some special reading for the semester, so they will put a copy of that on the Reserve," she said.
While it is not possible to check out most of these books from the library itself, any student is welcome to peruse the books while in the library.
"Most of what we have on reserve, I would say 99%, is library use only, but we do have that one percent of books that are three-day or seven-day loan," Crews-Jones said.
There are a wide variety of books available.
"We have approximately 25 subjects on reserve at this time," said Crews-Jones. "That's not total books, that's just subjects, like Sociology, Wildlife Biology, HPED, Criminal Justice, etc." For each of these subjects, at least one book is available for each. "Sometimes it's one (book), sometimes it may be four or five books. It just depends on the semester."
Textbooks are constantly being updated with new information, and every time they are updated, the previous text is swapped for the latest in the bookstore and students have to buy an entirely new book with a new-book price tag. Luckily the reserve gets new, updated textbooks on a regular basis.
"We've had some updated this semester. Those two chemistry books we just received today are the most updated issues they have," Crews-Jones said.
The library also has an online database that catalogs which textbooks are available and for what class. This can be found under the UTM Paul Meek Library homepage, in the catalog advanced search and then under course reserves at the top of the page.
(Librarian Janie Crews-Jones works to make textbooks available for students with the textbook reserve. Photo Credit/Jerry Garcia)