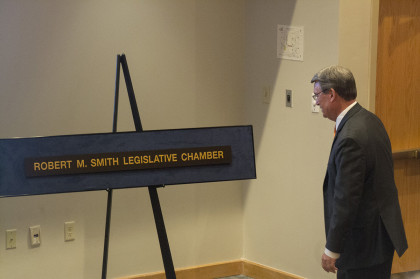 The dedication ceremony for the newly renamed Robert M. Smith Legislative Chambers was held on Aug. 31, at 3 p.m. on the campus of UTM.
On Dec. 1, 2016, the 65th General Assembly of the Student Government Association voted to rename the Legislative Chambers, UC Room 111, after Robert M. Smith.
Smith was the interim chancellor of UTM serving between Tom Rakes and Keith Carver. He was named Chancellor Emeritus by UT President Joe DiPietro on March 29, 2017, and the "interim" was removed from his title, thereby making Carver the 11th chancellor.
At the dedication, Faculty Senate President Chris Caldwell recognized Smith's dedication to UTM during his time here. During his time here, Smith worked for the approval of the new Latimer Engineering and Science building; the process of getting off of accreditation probation through the Southern Association of Colleges and Schools Commission on Colleges (SACS); the opening of the new press box at Hardy Graham Stadium; and the implementation of the 15 in 4 program through the UT System.
Carver gave credit to Smith for his work to increase enrollment at UTM and SGA president Jordan Long acknowledged that throughout all of his time at UTM, Smith was humble and grateful for the opportunity to work with students.
In his acceptance speech, Smith recounted the story of Dec. 1, 2016, when SGA announced that they were recommending the renaming of the chambers.
"The first thing I told them was, 'You can't do that,'" he said.
Smith said that the beauty of working at UTM came from shared values among students and administrators and that those working together supported and encouraged shared governance. Smith recounted the story of being invited to serve at UTM by UT System President Joe DiPietro and the encouragement he gave to Smith for accepting the position.
The crowd had standing room only in the legislative chambers where SGA and faculty senate meet. Carver said it was completely appropriate to rename the chambers after the man who has worked so hard to grow UTM.
//Former UTM Chancellor Robert Smith views the sign honoring him at the dedication ceremony for the renaming of the legislative chambers. |Pacer Photo/ Rachel Moore