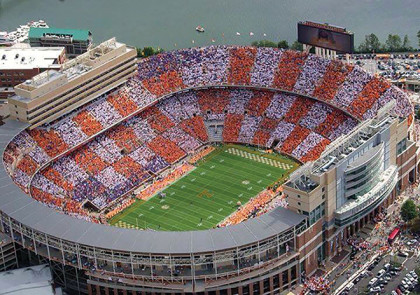 *Update: Former Alabama defensive coordinator Jeremy Pruitt has become the 26th football coach for the University of Tennessee at Knoxville.*
From the firing of Butch Jones, to scandalous hirings, to the firing of the University of Tennessee athletic director, UT football has taken a beating.
Butch Jones is a name that will go down in history for more reasons than one. Although he grew the UT football team and improved their record year to year for the first three years of his coaching, his fourth year as coach was filled with blowouts and close loses. After an aggressive call by fans for his termination, Jones was terminated with a $6.82 million buyout late in the 2017 season.
Social media played a large role in Butch Jones' termination. Fans and students alike continuously called for Jones's termination on Facebook, Twitter and other social media sites. With the fury of many humiliating loses behind them and an 0-6 start to the season, UT fans were able to leverage the John Currie and the UT officials into firing Jones.
Two weeks after Jones' termination, athletic director Currie was quickly preparing to hire Greg Shiano as the new head football coach for UT. Once again however, fans took to social media to protest the hiring of a coach who they believed was not fit for the job. Fans believed that several large boosters pressured Currie and UT officials into hiring Shiano. Shiano was accused of covering up child rape while at Penn State University and fans did not want him as the new coach of their beloved football team. They even went as far as painting "Shiano covered up child rape at Penn State" on the UT campus. The uproar of the fans caused UT officials to back out of the deal with Shiano.
After the revolt by UT fans, Currie was on thin ice with UT officials. He interviewed four different candidates for head coach before being fired last week for mishandling the head football coach search. Fans continuously prodded that they could choose a better head coach than Currie. Currie was then removed from his position the week after the Shiano scandal. After a combined $15 million buyout for Jones and Currie, the Tennessee head football coach search has been a costly one.
Currie was quickly replaced by Phillip Fulmer, former head coach at UT from 1992-2008. Many believe the UT football team has been in decline since Fulmer left and fans were in full support of him stepping back into UT football.
"The coaching search at Tennessee has been an absolute mess. The fan base has grown tired of incompetent hires from the administration and boosters and through the power of social media are finally having their voices heard," said sophomore communications major, John Thornton. Thornton is also a radio announcer for UTM football, and an avid supporter of UT football.  "However, the hiring of former head football coach Phillip Fulmer as new Athletic Director is a step in the right direction to calm the restless fan base."
Only time will tell what will happen with the UT head football coach search. After a hard 2017 season, fans everywhere are anxious for a strong new head coach that can take the UT football program back to its previous glory as a strong SEC team.
(Photo Credit/Wikimedia Commons)