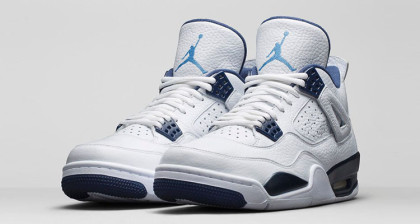 Nike Inc. and Jordan Brand decided to bring in the frigid New Year with some much anticipated and very welcomed "heat" with the release of the remastered classic the Air Jordan Retro 4 Legend Blue this past weekend.
Formally known as the Columbias when they were first released in 1999, it has been 16 years since their initial debut. Nike and Jordan Brand started 2015 with favorable opinions by sneaker-heads with their releases for the first quarter of the year.
The Air Jordan Retro 4 Legend Blue features a white primary color with Legend Blue, and Midnight Navy accents. The sneaker features tumble leather, which creates a wrinkle look than fans will enjoy.
There are a few differences in the 1999 model and the 2015 model, starting with the iconic jumpman located on the tongue. The "99" featured a patch jumpman, but Nike changed the new "15" to a stitched jumpman that is finely stitched, while the jumpman located on the back of the shoe above the heel is smaller than that of previous Retro 4s.
Another change to the jumpman is a slight color change in the Legend Blue, it's a lighter blue material compared to the original, which helps better create that shine that consumers want to see.
Those who have studied the way of the GOAT will tell you that the "99" pair are more aerodynamic that the "15" due to a higher cut toe bow located at the front of the sneaker.
Nike and Jordan Brand are still making amends for the quality of pass releases but with the Legend Blues they didn't miss when it pertained to the craftsmanship. The quality of the leather and stitching excellent, and the colorway flows just as good at its predecessor the "Columbia's".
All in all, sneakerheads and the occasional buyer will be happy with in the artistry and presentation of the Legends Blue 4 2015 model.
Next up for the Jordan Brand is another anticipated release, the Air Jordan Retro 7s "French Blue," another in the Jordan Remastered series, releasing Saturday, Jan. 24, 2015.
Feature photo credit: nicekicks.com