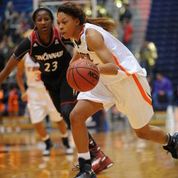 UTM head coach Kevin McMillan recorded his 99 career win in a dramatic fashion as the Skyhawks defeat Cincinnati on a game winning free throw by Ashia Jones.
The win is also the first of the season for the Skyhawks (1-2) after dropping their first two games to Southern Illinois and No. 12 Louisville.
"For our basketball team right now, it's a huge win," said McMillan.  "Every game is going to be tough for us but this team needs all the wins it can get. We've got kids that can make shots, we have size and have 10 players that can make plays. We just need time to figure out how to put it all together but tonight we took a step."
The Skyhawks jumped out to a quick lead before surrendering it to the Bearcats at the seventeen minute mark.  Cincinnati would hold onto a small lead before giving it right back to the Skyhawks before the halfway mark in the first half.  The Skyhawks held onto the lead for the remainder of the first half and took a 33-28 lead into the locker room for halftime.  The Skyhawks saw a lot of production coming off the bench in the first half, scoring 19 points.
The second half was a totally different story for the Skyhawks.  UTM extended their lead to 11 in the opening minutes of the second half before Cincinnati went on a 16-6 run to give the Bearcats a three point lead.  The Skyhawks were held to 29 percent shooting in the second half and was a key reason the Bearcats were able to get back into the game.
Cincinnati held onto a six point lead with under three minutes remaining in the game before the Skyhawks started to mount their comeback.  A 3-pointer and a jumper by Jessy Ward cut the lead to one before a free throw by Jones tied the ballgame at 61 with 22 seconds remaining.  A turnover by Cincinnati gave the Skyhawks the ball back with 10 seconds remaining.
The Skyhawks were not able to make their first attempt with four seconds remaining, but a tie up and a possession arrow in favor of UTM gave them a second chance with just over two seconds remaining.  Jones took the inbounds, drove towards the basket and was fouled with just .2 seconds remaining.  Needing just one point to secure a victory, Jones nailed the first free throw and missed the second, giving UTM the 62-61 win.
Jones led the Skyhawks with 13 points and five rebounds.  Shai Warfield-Cross ended with 12 points, six rebounds and Jessy Ward followed them with 10 points.
Despite the loss, Jasmine Whitfield recorded a double-double for the Bearcats, tallying 16 points and 10 rebounds.
The Skyhawks will return to action Friday, Nov. 21 when they take on Dayton in the Iowa Hawkeye Challenge in Iowa City, Iowa.  Tipoff is scheduled for 5 p.m.