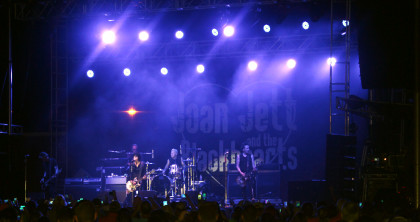 On Thursday, Sept. 10, at the annual Tennessee Soybean Festival, Martin, Tennessee, erupted to the sonic soundtrack of Joan Jett and the Blackhearts. Hundreds of spectators gathered in downtown Martin to see the rock n' roll legend.
Recently inducted into the Rock N' Roll Hall of Fame, Joan Jett's career in music spans more than 40 years and includes her first band, The Runaways, and a very successful solo career. Joan Jett has written a number of rock n' roll classics including Cherry Bomb, Bad Reputation, I Love Rock N' Roll and many more.
Jett opened with Bad Reputation, and from that point on, the crowd was in a frenzy. The band played a solid hour and a half set, which included some of Jett's most popular singles such as Cherry Bomb, I Love Rock N' Roll, Crimson and Clover, I Hate Myself for Loving You and many songs from her latest album, Unvarnished. Among the songs on the setlist was Make It Back, a song Jett wrote in light of Hurricane Sandy which hit the East Coast in 2012.
There was not a dull moment to be had. Joan Jett's onstage presence was mesmerizing, keeping the crowd screaming for more. The band and crowd fed off of each other's energy throughout the show. After the set ended, the crowd cried for an encore, to which Joan Jett happily obliged. Jett and company played an extra three-song encore, including Any Weather, a song included on her newest album and featured in the rock documentary, Sound City, directed by Foo Fighters frontman Dave Grohl.
Over all, Joan Jett's performance was positively electrifying and will definitely be a hard act to follow for the remainder of the artists performing at this year's Tennessee Soybean Festival.