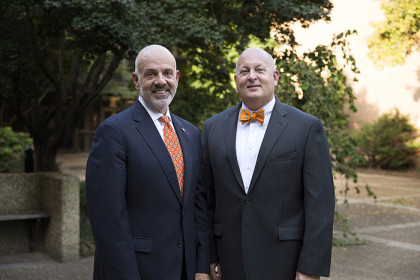 Dr. Keith Carver has been approved as the 10th chancellor of UTM.
The approval came earlier Friday afternoon, Oct. 14, during the University of Tennessee Board of Trustees meeting in Knoxville.
Shortly after the vote, The Pacer spoke with Carver during a conference call.
"This is a very exciting day for me," Carver said. "I'm looking forward to engaging in the whole process of what it means to be a part of the UT Martin community. I want to get really involved in enrollment, recruitment and student retention efforts. As well as partnering in the region… so others see us as a resource."
Carver will begin his new role at UTM Jan. 3, 2017. He previously served as UTM's assistant vice chancellor for development from 2006 to 2010 and has been the executive assistant to Dr. Joe DiPietro, UT System president, since he took office in 2011.
Carver spoke at length during the call about his interest in student engagement and the role he intends to play in recruitment and enrollment. The Pacer previously reported on Carver's stance for student success; that story can be accessed at http://www.thepacer.net/keith-carver-focuses-on-student-success/
DiPietro recommended Carver as chancellor following a search process that began in March. Carver will replace interim Chancellor Bob Smith, who took the helm at UTM after former Chancellor Tom Rakes resigned in April 2015.
Carver's compensation package includes an annual base salary of $300,000 with a non-accountable expense allowance of $416.67 per month and $1,667.67 per month for housing. This also includes a $10,000 moving allowance and Carver's eligibility to participate in a board-approved performance incentive compensation plan beginning on July 1, 2017. Unlike full-time faculty members, the appointment of a chancellor is without tenure or definite term.
"There's a real special culture on that campus; it's close knit … and I embrace that," Carver said. "I am going to honor that and not take it for granted. I know there are new rituals, customs, people and faces and I look forward to getting to know and reintroducing myself and my family and being a part of that."
Carver also emphasized that he is active on social media and plans to use those resources to boost information in the region about UTM.
In closing, Carver added, "I'm really excited for the game against Murray State this weekend. I know how important that is to student athletes, coaches and alumni."
UT System president, Dr. Joe DiPietro, and new UTM chancellor, Dr. Keith Carver; photo credit University Relations