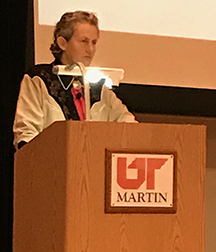 Dr. Temple Grandin, internationally known animal behaviorist and autism advocate, will speak at a sold-out presentation at Skyhawk Fieldhouse at 7 p.m. Tuesday, Feb.13.
UTM College of Agriculture and Applied Sciences Dean Todd Winters said that he is expecting a crowd of about 2,000 people.  Tickets to the public were available Feb. 1 and sold out the same day. The event will be streamed live through the OVC Digital Network by going to http://ovcdigitalnetwork.com/watch/?Live=6247.
Grandin's presentation is sponsored by the Ed and Llew Jones Distinguished Lecture Series and is titled "Developing Individuals Who Have Different Kinds of Minds."
"Congressman Jones and his family had given some money to do this lecture series and probably the most notable person that's been in before was when former VicePresident Al Gore came a number of years ago," Winters said.  "I was looking for people who had some importance to agriculture, which Dr. Grandin definitely does."
Winters said that Jones really cared for the life and well-being of West Tennesseans.
UTM Animal Science Assistant Professor Dr. Emalee Buttrey said that Grandin will be speaking to students enrolled in Animal Science classes, students in the College of Education, Health, and Behavioral Sciences, and the Honors Program throughout the day.
UTM Department of Agriculture, Geosciences, and Natural Resources Chair Wes Totten said that Grandin will be touching on topics to the classes "associated with best management practices that are associated with livestock behavior, as well as touching on some current issues and topics that are pertinent to livestock behavior these days."
"We're trying to get as many students and faculty and as much of the community as we can an opportunity to come and talk to her in a lot of different environments," Totten said.
Grandin was diagnosed with autism in the 1950s.  She is a spokeswoman for the autistic community in addition to her work in the animal science profession.  She is the author of several books on animal science and autism and her life story was featured in the 2010 HBO film, "Temple Grandin," starring Claire Danes.
Grandin is currently a professor of Animal Science at Colorado State University in Fort Collins, Colorado. She specializes in the behavior and handling of cattle and pigs; the design of livestock handling facilities and restraint systems; and the study of animal welfare in the meat industry.
Grandin has made appearances on well-known television shows, including, "20/20," "Today," "Larry King Live," "48 Hours" and "60 Minutes."  She also has been featured in numerous magazines including the New York Times, People, Forbes, U.S. News and World Report, and Discover.  In 2010, she was named by Time magazine as one of the 100 most influential people in the "heroes" category.
"Dr. Grandin is regarded as an expert in both animal behavior and autism; however, her personal story is one of overcoming adversity, using one's talents, working hard, and having devoted family and mentors," Buttrey said.
"I'm really excited for her to be here and be able to listen to her because I know very little about autism, not from the animal behavior perspective," Totten said.  "Learning a little bit more about how she developed her ideas in regard to animal behavior and how that linked together with her background in autism, and just to see the public on this campus."
The Ed and Llew Jones Distinguished Lecture Series was recently reinstated by Meg Kinnard Hardee, granddaughter of former U.S. Rep. Ed Jones, and her husband, Geoffrey.  The presentation was also funded by other donations.