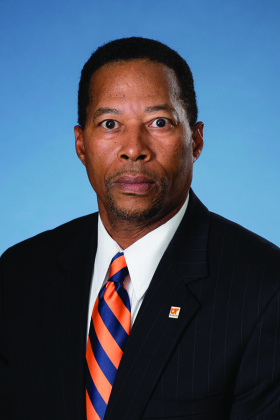 Beginning in January 2018, Joe Henderson's position as Interim Director of Equity and Diversity/Title VI Coordinator/Title IX Coordinator will no longer be an interim role, but a permanent one.
The Director of Equity and Diversity is responsible for making sure that the university is a safe and professional place for all faculty, staff and administration. The Coordinator for Title VI and IX grants also makes sure that the university adheres to the stipulations of each grant. The professional additionally works directly for Chancellor Keith Carver.
"It's not a cookie cutter job," Henderson said. "[It's] just trying to provide guidance and direction for the university and make sure that we stay out of lawsuits and things like that."
Henderson has spent two years as the office's interim and prior to that was a student conduct officer. He has been a UTM employee since 2009.
Before working at UTM, Henderson was a police officer. When he retired, he became a city manager, where he gained legal knowledge through dealings with the municipal court and municipal judge.
These experiences and knowledge are what Henderson believed set him apart from other candidates that applied for the position.
He went through the same interview process as professors. He gave a presentation, held an open forum and was evaluated by a search committee, which made recommendations of him and an attorney.
"It's all about investigation," Henderson said about the position. "…Most lawyers are given a case that's already been investigated. All they do is prosecute. You've got to know how to build it up from the ground when people don't want to talk to you."
Now that the position is permanent, Henderson can more aggressively work toward providing programming for faculty and staff, as well as students.
"I have a lot of ideas about how we can go about providing programming to students to better educate them how to be safe on campus and things like that," Henderson said.
Through his role as Director of Equity and Diversity, Henderson makes sure that all faculty, staff and administrators are being treated equally and given equal opportunities regardless of race, gender, age and so on. This means investigating claims of discrimination and reporting these findings to the chancellor. Henderson also investigates violations of the UT System Code of Conduct or the Faculty and Staff Handbook. Another aspect of his job is conducting sexual misconduct training.
"A lot of my work is consultation with the attorneys in Knoxville on different things," he said.
Henderson also protects equal opportunity hiring for incoming faculty, staff and administration. A yearly report he conducts called the Affirmative Action Report reflects this. Similarly, all faculty and administration job applications go through his office and he makes sure that reports on the candidate are true.
"I tried to bring a diverse population into the workplace because you work better when you have a diverse population so that's what I'm doing here now," he said of previous jobs. "… I think our faculty makeup should be representative of what the student makeup is."
On the Titles VI and IX side of things, he oversees reports of progress of the grants and works with a representative in the athletics department specifically for Title IX.
To learn more about the Office of Equity and Diversity or file a complaint, visit https://www.utm.edu/departments/equalopp/.
(Joe Henderson has been named to the permanent role of Director of Equity and Diversity at UTM. | Photo courtesy University Relations)