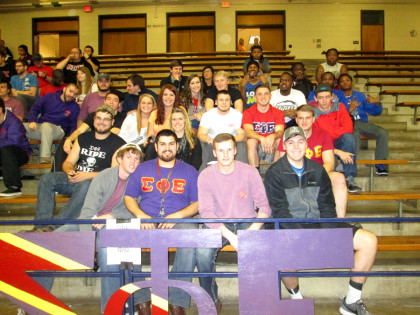 A competitive spirit was in the air last night as Greekfest held its annual Greek Olympics.
The Greek Olympics consists of several games played by the different teams from various fraternities and sororities. The teams with the most points are placed
1st, 2nd, or 3rd and also receives points from their individual council, IFC or NPHC.
The Olympics began with the "5-point shoot-out," where each team played individually and had to make as many shots as they could from five different places on the court.
Next was the "Tower Building" contest, the same game as last year with a few added twists. This year contestants were given two new materials: drinking straws and paper clips, in addition to having newspapers and tape. The teams then had to build the tallest tower they could. Alpha Delta Pi and Kappa Alpha Psi won this challenge with a tower over 10 feet tall.
Another popular game, "The Marshmallow Challenge," was also changed this year. Standing between the competitors were event staff with a large sheet. Most teams still did very well even with the barrier between the person throwing the marshmallows and the catcher, who had to catch the marshmallow in his or her mouth.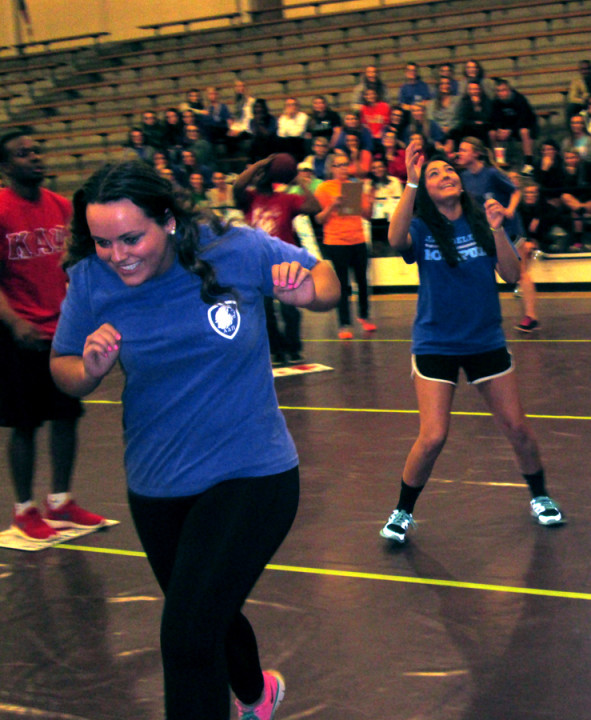 Jamese Coleman, junior education major and member of Zeta Phi Beta Sorority stated, "Greek Olympics was so much fun! I love being paired with IFC! The different tasks and games they give us really challenge us and channel my inner competitor!"
A new game added this year was quite a stinky one. "Peanut Butter Pong" consisted of two teammates bouncing ping pong balls off the ground onto a table with pieces of bread smothered in peanut butter.
The winners of this year's Greekfest Olympics were Sigma Phi Epsilon & Phi Beta Sigma in 1st place, Kappa Alpha order & Gamma Kappa Pi in 2nd, and in 3rd place were Alpha Delta Pi & Kappa Alpha Psi.
The first night of Greekfest began with Service Night on Tuesday, February 10. The Service Night winners were Chi Omega & Omega Psi Phi in 1st place, Sigma Phi Epsilon & Phi Beta Sigma in 2nd place, and Alpha Omicron Pi & Alpha Phi Alpha in 3rd. The total amount raised for Service Night was $9,705.68.
Courtney Plunk, junior marketing major, said "I enjoyed being able to help out with the activities, such as writing letters to little children, and it was heartwarming to know that the money goes to the Carl Perkins Center as well as the Weakley County Backpack Program."
The next Greekfest event will be Line Dance, tonight at 7 p.m. in the Skyhawk Fieldhouse.
Photo credit: Amber Sherman