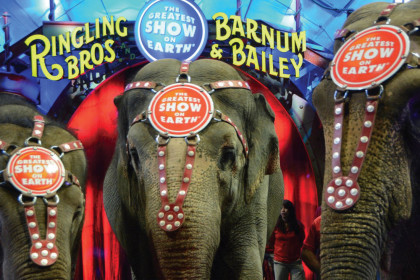 Due to high costs and a decrease in ticket sales, Ringling Bros. and Barnum & Bailey's "The Greatest Show on Earth" will not go on.
Feld Entertainment, the owner of the circus for over 50 years, announced on Jan. 14, 2017, in a press release that the circus would be holding its last shows on May 7 at the Dunkin' Donuts Center in Providence, Rhode Island, and May 21 at the Nassau Veterans Memorial Coliseum in Uniondale, New York. 
Ending its attempt to provide family entertainment for the last 146 years, the circus could not gain the momentum needed to profitably continue their business after deciding to remove Asian elephants from the show. 
On March 15, 2015, the company announced its plans to take out this endangered species from the circus and relocate them to the Ringling Bros. Center for Elephant Conservation, home to the largest herd of Asian elephants in the Western Hemisphere.
The company's original plan intended for the 13 elephants remaining in the traveling show to be removed by 2018; however, the circus will end before this time comes.
 At the conservation in Florida, the Feld family works to save the species from extinction, as well as support the search for a cure for diseases that affect young elephants.
Despite Feld Entertainment's work towards the preservation of the species, animal rights activists, including People for the Ethical Treatment of Animals (PETA), have petitioned for years for the removal of the elephants from the show.
These groups accuse Ringling Bros. of abusing the animals by making them perform tricks and using bullhooks, a tool used to train the elephants through physical punishment.
"By its very design, the bullhook is meant to inflict pain and instill fear. The use of this archaic and inhumane weapon on elephants – a species that is self-aware, intelligent and emotional – is abhorrent," said president and co-founder of the Performing Animals Wellfare Society, Ed Stewart. "PAWS thanks California legislators and Gov. Brown for leading the way and providing elephants with the respect and protection they deserve." 
The use of bullhooks has been prohibited in large cities including Los Angeles and Oakland, California, where the circus no longer visits.
In Feld Entertainment's official press release, Juliette Feld, the Chief Operating Officer of the company, said, "This was a difficult business decision to make, but by ending the circus tours, we will be able to concentrate on the other lines of business within the Feld Entertainment portfolio." Feld Entertainment's other lines of business include, but are not limited to, AMSOIL Arenacross, Monster Jam, Marvel Universe LIVE!, Monster Energy Supercross and Disney On Ice.
"Now that we have made this decision, as a company, and as a family, we will strive to support our circus performers and crew in making the transition to new opportunities," said Feld Entertainment as they pledge their loyal support to those employed by Ringling Bros.
(Photo Credit/FilmMagic)