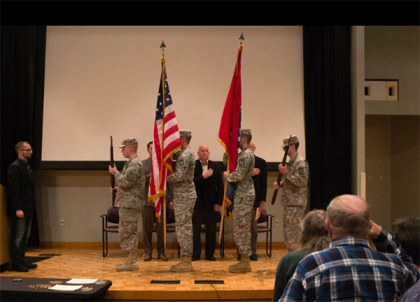 As Veterans Day approaches, the Skyhawk Veterans Association, along with the American Legion 55 Auxiliary, hosted the annual Veterans Day and Vietnam Veterans pinning ceremony on Nov. 10, at 3 p.m. in Watkins Auditorium.
SVA president Tim McClain called the ceremony to order and welcomed the honored guests and speakers as the colors were posted by the Skyhawk battalion.
As Chancellor Carver was introduced, he recognized every veteran from each specific branch for the audience to thank for their service and sacrifice for this country. "We can truly honor our heroes here today," Carver said.
As this year is the 50th anniversary of the Vietnam War, the SVA and American Legion 55 Auxiliary honored the Vietnam veterans in the community including UTM Provost and Vice Chancellor for Academic Affairs, Dr. Rich Helgeson as the guest speaker.
Helgeson has worked at UTM since 1998 but was born in Los Angeles, California, and raised in the city of Long Beach. He was drafted in the Army in 1969 during his junior year of college. He recounted the night and following days after he knew it had happened.
"So I remember Dec. 1, 1969, that evening they did the lottery. A good friend of mine, Tom, called me up laughing saying, '88! You're up!,'… I knew I was going," he said.
"So I borrowed my sister's credit card and my mom's brand new Chevy and I thought I would drive across the United States to see what I was going to go fight for. I went from national park to national park," Helgeson said.
He got his notice while visiting family and left for basic training at Fort Ord, California, for eight weeks and continued on to Advanced Individual Training (AIT). He was going to be the soldier carrying a PRC-25 radio which would make him a target in Vietnam. He was later transferred to communications and driving a deuce and a half and then onto the Army Security Agency.
He remembered the weekend before he deployed to Vietnam and how badly he wanted to go home but that he did not have enough money to make it all of the way there and back. Helgeson decided to hitchhike as far as he could. The hardest decision he had to make was whether to wear his uniform or not.
"I wore my uniform. I was proud of my uniform. I stood on the side of the road for a day and a half and never got a ride. People would drive by and just look or yell something and that is still stuck in my head," said Helgeson. "I was proud of how I looked, but all of us who were back then there know that we weren't all necessarily… Well anyway."
As he got to Vietnam, he realized the severity of the situation. "I was lucky… My best friend wasn't so lucky."
As Helgeson was in Army Intelligence, he could not divulge into his job but was stationed at the Bien Hoa Air Base in Vietnam. The main thing he learned in the Army was that "if you were going to make it, you had to be strong." The army taught him how to persist.
He also learned how to pray in the Army. He prayed everyday while deployed to meet someone. He met his best friend and wife shortly after returning home and has been married now for 43 years.
Helgeson concluded his speech saying, "I am very proud of all of you. I know we may have had different services but we have a brotherhood and sisterhood in common and I am very proud of that. I am very, very proud to be standing up here. Thank you."
As a tribute to the Vietnam War, veterans and memorial was played in honor of the 50th anniversary. Nine million Americans served in the Vietnam War, representing 10 percent of their generation. Fifty-eight thousand Americans were lost in battle but never lost a major battle in the eight years of fighting.
The American Legion 55 Auxiliary honored the Vietnam veterans in the community during a pinning ceremony and recognition of service.
"It's our privilege to present these on behalf of a grateful nation as a symbol of thanks and to honor your service, valor, and sacrifice when our country needed you," said Molly Morel, mother of UTM alum Brent Morel who was killed in action, as she presented the veterans with their pins.
These actions served as a welcome home many of these veterans never received.
Twenty-nine Vietnam veterans were recognized for their service and pinned during the ceremony. Each veteran received a proper welcoming home, 50 years late.
As a surprise, UTM Music professor Roberto Mancusi performed a rendition of "God Bless America" moving many audience members to tears.
Assistant Commissioner of the Tennessee Department of Veterans Services, Matthew VanEpps read Gov. Bill Haslam's proclamation for Veterans Day detailing their thanks for every veteran. Having grown up listening to his fathers' stories of his service in Vietnam, VanEpps said that he and his brother were inspired to serve as officers in the Army and work to serve veterans in West Tennessee.
Concluding the Veterans Day ceremony, Tim McClain reminded everyone to thank a veteran everyday they had the opportunity to.
"May God bless you, our veterans, our military and the United States of America," he said.
(The Skyhawk battalion posts the colors.|Pacer Photo/Sarah Knapp)