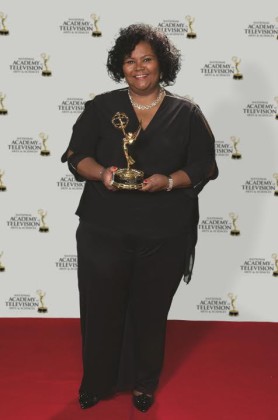 Henrietta Giles is living proof that the size of your hometown will never determine what you are capable of becoming. Stanton, Tennessee was home to 423 people as of July 1, 2015, so it comes as a huge surprise that the one stoplight town brought forth the amazing talent and strength that Giles' voice projects regularly.
The youngest of eight kids, Giles came from a fearless father who believed that, "No one should have less or be looked at differently just because of the color of their skin."
Her mother and father were both passionate and active proponents of the Civil Rights Movement. Giles and her sisters were even some of the first black students to help integrate schools in Haywood county. Giles' work experience spans a range of mediums including television and film production, radio production, ghost writing for a biography and now teaching at the University of Tennessee at Martin. Giles received an Emmy award for her work on the documentary "Reflect, Reclaim, Rejoice: Preserving the Gift of Black Sacred Music," which is not the first and will likely not be the last, documentary to have Giles' creative touch to it.
After growing up in the segregated south, Jesse Giles raised his daughters to understand the importance of having the right to vote because every day that he went to work to help African Americans register to vote was another day that his family and his life was endangered.
"He worked tirelessly, for many years," said Giles of her father and his contributions to voting in Tenn. The Giles family even opened their home up to a man named Mr. Thomas, who was part of a Quaker organization that was also dedicated to registering blacks to vote. "Imagine the '60s… a white man living with a black family and the attention that drew."
Their cause was noble, but it cannot change the ways of the time period. "There were times when our family was threatened. I remember as a child, my older brothers and sisters scooping me up out of bed because someone had called and said there was a bomb under our house." Giles lost her father at the young age of ten years old, but she will never forget the important role he played for the Civil Rights Movement and still wonders at his exact location in the crowd when she watches film of the March on Washington, which he marched in during his lifetime.
When she looks back on her childhood, Giles recalls being right in the thick of changes for the school in her county. "My sisters were the first to go, and it was a hellish experience for them," Giles even recalls growing up and realizing how cruel people really were on the school bus. She was separated from other black students in her class and they were not allowed to play together. A few years ago, Giles discovered that one of her life long best friends had actually been in school with her as a young child, and they did not even realize it because they were never able to speak. "I have no memory of even going out on the playground with the other white kids. The black kids stayed inside, and the white kids went outside and played."
Giles started out with her first media related job in Nashville, working for Channel 5. Her success only grew from that point as she moved on to work for a country music radio station in Charlotte, North Carolina. Giles did not stay away from Rocky Top long; she came back to Nashville to work for a production house for various kinds of entertainment television.
"I have always had a love for television and story telling…. I think that's what draws me to producing documentaries." She co-produced, "Waiting in the Wings: African Americans in Country Music," which is a documentary that looks at the history and instruments of country music and how African Americans relate to that music form.
Giles received an Emmy award for the documentary, "Reflect, Reclaim, Rejoice: Preserving the Art of Black Sacred Music," which she wrote, directed and produced for the United Methodist Church. This short documentary takes a deep look into the importance of black sacred music as a means of praise in the United Methodist Church and offers a small taste of the power and spirit behind such passionate displays of faith through music.
Giles was the ghost writer of Reverend Joseph Lowery, a contemporary of Dr. Martin Luther King Jr., Lowery, along with King, Ralph David Abernathy and others founded the Southern Christian Leadership Conference. Lowery gave the benediction at President Obama's first inauguration and received a medal of freedom from the president in 2009. Giles helped him with work on his biography, "Singing the Lord's Song in a Strange Land," which was a collection of sermons and presentations that he had given over the years.
Giles has connections to the Civil Rights Movement throughout both her personal and professional life, but she comes from an entire family of educators. After spending a large portion of her life working in media, she now has the opportunity to share those connections and her unique voice with young people while she teaches communications classes at UTM. Giles would say to students who are trying to stand up for what they believe in, "Search for the truth."
"You get a feeling in your gut when something is wrong. Be attuned to yourself and your feelings." Giles believes that a university setting is an opportune time for young people to take in the cultures and values of individuals who are different from what they typically believe. "I hope that when students see me as an instructor…their eyes will be opened."
For Henrietta Giles, Black History Month is about truth and "filling in the gaps that tend to be gaping in our collective history." To view Giles' documentaries visit henrigilesmedia.com and click on the videos tab.