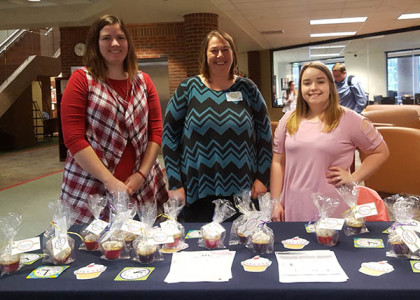 UTM students enrolled in Gerontology 312: Caregiving in Late Life hosted Cupcakes for Caregivers from 10 a.m. to 2 p.m. on Nov. 15 in the Paul Meek Library. The event was held partly in recognition of November being National Caregiver Month.
Dr. William Dooley, the professor of Gerontology 312, required his students to complete a caregiver resource project. After brainstorming ideas, the students decided to host the cupcake event as a way to give back to caregivers and thank them for their hard work.
The students had watched a TED (Technology, Entertainment, and Design) Talk earlier in the semester which mentioned that over 40 million people had this full-time, often unpaid job of being a caregiver.
"Caregiving can be a thankless job and it's a job many people fall into. I feel like it's important to show appreciation," said Gaye Coleman, senior gerontology major, who assisted with the event.
The students hosting the event partnered with the West Tennessee Association for Children's Early Education student group. A table was prepared and decorated with information about caregiving, stickers, cupcakes, and clocks. The clocks were used to represent the theme "Caregivers around the Clock."
The cupcakes were distributed to faculty, staff and even students who were caregivers or knew caregivers. An email was sent out by Dooley earlier that day to inform faculty and staff about the event. The cupcakes used at the event were donated by local Martin, Tennessee business, Lala's Cakes & Sweet Treats.
"Caregivers do so much for the loved ones that they care for," said Kalena Borman, senior nursing major. "I think it's nice to say you're doing a big job and you're doing great at it."
(Kalena Borman, Deonza Turner and Taylor Pruett give cupcakes away to caregivers in the library. | Photo Credit/ Corrie Campbell)