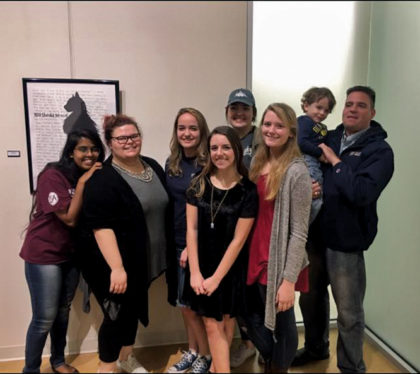 "The only thing is- I wish the class lasted longer so I could spend more time in class helping my students."
Most students are familiar with the idea of PEP leaders, especially if they began their college experience at UTM. But for Chelsey Gordon, being a PEP leader was a small taste of her future dream.
Gordon, 21, is a senior Skyhawk, and even more importantly, an aspiring art teacher. She joined PEP, or the Peer Enabling Program, when the Fine Arts PEP Leader was promoted to College Leader.
Like many incoming freshmen, Chelsey Gordon wasn't enthusiastic about PEP class when she was the one sitting in the desk.
"At first I wasn't really into it, but the further and further I got into having to do all the events that we had to do I really began to love all the people."
PEP Leaders were installed as part of UTM's FYI (First Year Initiative) program selected to assist incoming freshmen to adjust to college life, from showing them around campus to being a friend. PEP Leaders also work alongside professors in a classroom for Freshman Studies (GENS 101) every fall to help new students learn how to succeed in a college environment and make the most of their time at UTM.
"Because I'm going to be an art teacher in the coming months, it was really helpful for me to understand and learn about classroom management as a teacher… It helped me keep track of when things are due, it helped me learn names quicker – because I've never been a name person – and it really just, I kind of expanded my horizons of getting to know people." said Chelsey of her time as a teaching PEP leader. The opportunity has allowed her to learn more about herself and ultimately made her a stronger teacher.
One thing, in particular, stood out to Gordon even as a freshman and was part of what convinced her to get involved. "It was just really always interesting to me that they had college students teaching these baby Skyhawks all the time, and I really wanted to do that."
PEP leaders begin their training on the UTM campus near the end of the summer, where they are all instructed together and prepared for the coming weeks.
"For PEP training we came back about a week and a half early, and we started training on a Saturday. We do about eight hours of work or more a day…It's kind of like taking a week and a half long class. You don't have tests really, but there's just a lot of information given."
During this time, the leaders take a LIFO exam, which is a self-assessment to help an individual understand their own personal behavioral preferences and discover their aptitudes. Once PEP leaders have taken their own LIFO exams, the leaders are able to administer them to the students "and help them understand what their strengths are and use them to their best ability, which is really important."
For other prospective art professors, Gordon highly recommended the experience. "I think that being in the art community, networking and relationships is really important. I not only made relationships with my students, but helped them figure out how to make relationships with other people because they are art students and they have to figure that out… it does bridge the whole experience part of it. It gives you a little bit more confidence. You make friends along the way, too. Because not only are you friends with your students and your faculty mentor, but you make friends with other PEP leaders. "
Chelsey says it was also nice to revisit that 'whole new world' kind of thing that college offers you when you're a freshman. She experienced this by being with the new students regularly, these "baby Skyhawks" even became her friends. Chelsey loved her students so much that she wrote them notes before the end of the semester offering to stay their mentor well after her time served through PEP.
"They were absolutely the best first class I could've had."
Even though Chelsey won't be able to teach a PEP class next year as she begins her student teaching, it doesn't mean she's forgotten about her PEP group.
"A few of my students do want to become PEP leaders just like I wanted to… one of them is actually working for SOAR staff now," she says about her students' growth.
For those considering a position as a PEP educator, Chelsey only has one thing to say. "I recommend it for anyone, because I don't know about everybody else, but I've always been passionate about UT Martin and UT Martin students and I care about all of them. If you have a passion for UT Martin, you definitely should do it, too."
(The Fine Arts Freshman Studies class of Fall 2017 hard at work in the Fine Arts Building. |Photo Credit/ Chelsey Gordon)