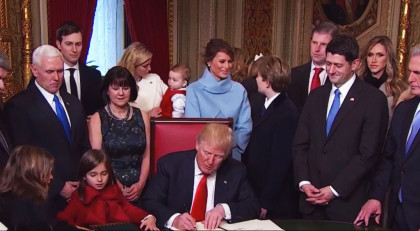 Since his inauguration, President Donald Trump has signed multiple executive orders. However, many of these actions have come across as controversial and have created mixed emotions within the electorate. Here is a recap of political highlights since Trump took office.
On Feb. 7, Betsy DeVos was confirmed as Trump's Secretary of Education pick in a historic tie with a count of 51 to 50 with Vice President Mike Pence casting the tiebreaking vote.
On Feb. 3, President Trump signed two actions; one executive order and one presidential memorandum. The executive order states that Trump's administration will regulate the United States financial system under a set of "Core Principles." This order may loosen present regulations on Wall Street and allow U.S. companies more freedom around the world. Some experts worry that this would quash the Obama administration's Dodd-Frank Wall Street Reform and Consumer Protection Act.
That same day, President Trump signed a memorandum to review the fiduciary duty rule. This Obama administration law, set to go into effect in April of this year, could also see the same future as Dodd-Frank.
On Feb. 2, President Trump made a proclamation that February will be known as American Heart Month, to remind the people of those that have died of heart disease and the research that has gone into its treatment. This leaves several wondering, "What about Black History Month?"
Jan. 30 saw the rise of President Trump's executive order, "One New, Repeal Two." This order states that the executive branch must consider two regulations to be terminated, for each new regulation issued. The order also dictates that the budget for these new regulations must be zero dollars. This order has some environmental groups concerned that it could repeal regulation protecting natural resources.
On Jan. 28 President Trump released a memorandum to reorganize the National and Homeland Security councils. This removed the Joint Chiefs of Staff Chairman and the Director of National Intelligence from regular attendance to council meetings and installed President Trump's chief strategist, Steve Bannon. Some lawmakers and national security experts expressed criticism for the order because the chairman will only be in attendance when necessary. The Joint Chiefs of Staff website issued an article two days later which said, "The chairman of the Joint Chiefs of Staff will continue to present the National Security Council with his best military advice."
On Jan. 27, President Trump issued a memorandum to have the U.S. Military's and Ballistic Missile Defense System's readiness status reviewed and also gave the immigration ban executive order, both times citing national security. The military review has gone along with President Trump's campaign to defeat ISIS. The immigration ban prevented any immigrants from Iran, Iraq, Libya, Somalia, Sudan, Syria and Yemen entering the country for 90 days. The ban also bars all refugees for 120 days, with Syrian refugees being barred indefinitely.
With changes ever present and legislation proposed, released and appealed every day, the environment for political news is ever changing. Keep up with The Pacer in every print issue to see the highlights of what happened in the last two weeks.
President Trump is pictured signing executive orders with family, Vice President Pence and his wife Karen, and House Speaker Paul Ryan on inauguration day. (Photo Credit/Creative Commons)