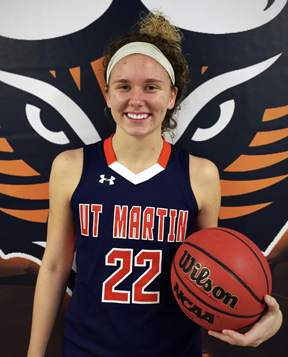 Ashton Feldhaus' life has revolved around a round ball, from her childhood in Richmond, Kentucky, to her current position on the UTM Skyhawk women's basketball team.
Feldhaus, a 6-2 forward and Communications major, is the daughter of Allen and Karen Feldhaus, both of whom teach at the high school in Richmond. Feldhaus' dad is the boys' basketball coach and her mom is the cheerleading coach.
"Basketball and sports, in general, have always been a family affair," Feldhaus said.
In Kentucky, the name Feldhaus has become known for making history in college basketball. When leaving high school, Ashton Feldhaus was a top prospect in the class of 2013 around the country. She had full scholarship offers from over 20 colleges.
"When I finally narrowed my decision I had decided on Nebraska, Iowa State, and Butler University. These were the last three visits I took. Looking back now, I would do so many things differently, but I was a 16-year-old trying to make a decision that would impact my life more than I realized. Even though Nebraska and Iowa State were ranked in the top 25 in women's basketball at the time, I decided that Butler is where I would go," Feldhaus said.
Feldhaus was the sixth man, as a freshman, playing for the Butler University women's basketball team.
"When I got to Butler, I can't even describe how excited I was. Not only was I living my childhood dream of playing Division One college basketball, but I was at a top academic university," she said.
Her excitement soon faded as Feldhaus realized that she had missed a lot of behind-the-scenes issues in the women's college basketball program. Before Feldhaus arrived at Butler University, there had been nine players to transfer in three years, and she soon found out why. Feldhaus then began to hate the game of basketball. She wanted no part of what the program had to offer.
"I played in every single game my freshman year in the Big East Conference but, after the season ended, I made the decision I was going to transfer," she said. That year, five players, including Feldhaus, left the program and soon afterward the coach was let go.
Once Feldhaus decided she was transferring, the recruiting process started all over again.
"There were schools and coaches from all over the country calling me, but I found myself not looking for all the bells and whistles that college basketball had to offer," she said. "I didn't care what conference it was, I didn't care about the facilities, and I didn't care about the location; all I knew was that I needed to find a place that would fit with my morals and my beliefs, and a place where I could be happy."
"I was sitting in my room at Butler and received a call from a UT Martin assistant coach. I remember thinking to myself, who in the world is UT Martin?" she said.
After a brief conversation, Feldhaus found herself interested. The next day Kevin McMillan, UTM's head women's basketball coach, called her.
"I talked to him, and I immediately knew this was an option for me. I talked to other schools, but I only took one visit this time around, and that was to UT Martin," she said.
Feldhaus said she quickly fell in love with the campus.
"There's something about the way we do things as a basketball program. I adore the way the students, faculty, and staff are on campus and the people in this town," she added.
Feldhaus decided to transfer to UTM in 2014, but she had to sit out her sophomore year because of NCAA transfer rules.
"It was horrible not being able to play," she said.
Her junior year, 2015, Feldhaus was able and ready to play. Unfortunately, she tore her ACL after the Skyhawks' exhibition game during the last play in practice, and she was forced to sit out another season. Now her third year is here at UTM and she is finally able to play.
"My college basketball experience has been a roller coaster ride, but I have learned that everything happens for a reason. I will graduate in May but still have two more years of eligibility left after that so I am going to stay and get my master's degree," she said.
"One thing I can say about this experience is that I truly believe I am blessed. No, the Butler situation was not how I pictured my college basketball experience starting out. No, sitting out a year and then sitting out another because of a torn ACL was not in my plans either. But, I am playing again, I feel more prepared than ever, and I am so ready to take on this season with one of the best teams I have ever been a part of," Feldhaus said.
"The way we do things here as a basketball team is very blue collar. We are taught to act and think a different way. We aren't the biggest, fastest, or strongest team compared to a lot of other teams we play, but what sets us apart is our work ethic. We are not only taught; we are made to do our dead level best every single day. Playing basketball here is the hardest thing I have ever done in my life," she explained.
As an athlete, a normal day for Feldhaus consist of 6 a.m. weights, class from 8 a.m. to 1 p.m. and then she has practice or workouts from 2 p.m. till either 6 or 7 p.m.
"It is a grueling job trying to balance academics, athletics, family and a social life, but I wouldn't trade this journey for the world. During my time here at UT Martin I have met some of the most amazing people that will truly be lifelong friends. I believe God has a plan for me, and playing basketball here at the University of Tennessee at Martin has been more than a blessing," she said.