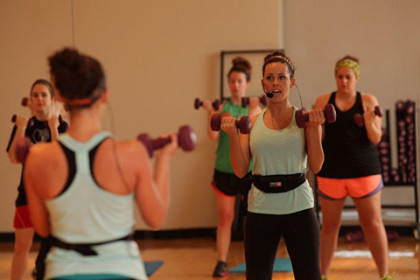 My muscles burned, my eyes stung from the sweat that seeped into them and my heart beat as quickly as the America's Top 40 song that played through the speakers.
My desire to quit was strong, but my desire to be healthy was stronger, so I kept cycling and focused on the colorful lights dancing on the walls. I am a senior, and this is my experience of taking my very first fitness class at the UTM Student Recreation Center.
When I decided to take a fitness class, I simply looked at the schedule and picked a random class that fit in my schedule—Cycle Fit. There were so many to choose from including Yoga, Ab Lab, Latin Dance Cardio and Spring Break Boot Camp. It was obvious that the recreation center was trying to reach a wide variety of students with different time preferences, interests and fitness abilities.
When I arrived at the classroom in the center, I was almost immediately ready to turn back around and go home. The soccer team was finishing up their cycling session and they were doing the workout with incredible speed at an almost perfect unison, that I thought that there was no way I could compare.
I decided to stay, however, and give the class a chance. We walked in and, with the assistance of the student instructor, set up our exercise bikes. Once everyone was ready, the instructor encouraged us to go at our own speed, but continue to try and push ourselves. The class started out at a comfortable pace and progressively got harder as time went on.
I would like to say that it was a fun and easy workout that made me feel great. In reality, it was an incredibly difficult workout that made me realize just how fun and easy it really is to sit on the couch and eat a bowl of brownie batter. That said, the feeling I get after licking the bowl clean can never compare to the feeling I had after this workout. It may have been difficult, but afterwards I felt energized, happy and really proud of myself for pushing through it. Basically, the way that I felt after the workout was worth the way I felt during it.
What I loved the most about the entire experience was the sense of community I got from everyone in the class. There was such a wide variety of people—women, men, black, white, thin, overweight—that you can almost be certain that someone else in the class relates to where you are in your life and in your fitness level. Nobody judged anybody else for their ability or lack thereof, and people did not hesitate to encourage the stranger next to them if they were struggling.
The instructor of this particular class was also very helpful with her instructions, encouragement and advice. Her name is Megan Garrett, a senior Health & Human Performance major with a concentration in Exercise Science. Garrett is Athletic & Fitness Association of America (AFAA) certified and plans to go to graduate school for physical therapy. She loves teaching the fitness classes at the center and encourages others to participate in them.
"It's a fun way to get people interested in exercise," Garrett said.
If you have never taken a fitness class before, or perhaps only taken one or two, I encourage you to go to the Rec Center and try it out. If you are unsure where to start, I suggest taking a look at the class schedule and seeing what works best with your schedule. If you still are unsure what to take, Garrett advised starting with a resistance class, such as the Spring Break Boot Camp class. This class and others like it start at a low intensity and slowly build up. The Spring Break Boot Camp course is also an incentives program that includes rewards, such as door prizes, and keeps a record that allows students to see how much they have accomplished.
For more information on all the classes that the Student Recreation Center has to offer, visit their website at www.utm.edu/departments/campusrec.
(Photo Credit/Student Relations)