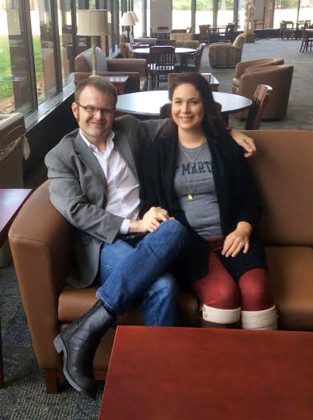 Dr. Doug Owens, newly tenured Associate Professor of Music, teaches applied lessons for saxophone and double reed instruments such as oboe and bassoon. He also teaches courses in music theory, aural skills, history of popular music and "wherever needed" within the Department of Music.
Owens was raised in Fountain Inn, South Carolina, a small town just south of Greensville. He attended Furman University, where he received his Bachelor's degree, then went on to get his Master's degree at the University of South Carolina and his Doctorate at the University of Georgia.
"I have always been every bit as equally interested in the sound of music as any other aspect of music itself," Owens says. "As I got older and more involved with playing in band, I started taking lessons with a gentleman who taught at Furman, and I found out that he was a multiple intrumentalist. When I found out all of the music he was able to create, not just on one instrument, but many instruments in his particular case, I was absolutely intrigued."
Katie Smith is Coordinator of Student Organizations at UTM. Smith oversees registered student organizations at UTM, keeping administrative records, making sure those records are updated, providing support to students who have questions about the organizations and also oversees Orgsync at UTM.
"I genuinely have a passion for student organizations and what they can do for students' professional development, and that was really instrumental in my college career as being involved with different student groups. Pairing that with a liberal arts education really helped me, when I got out into the work force, to be able to do just about anything, and that's been really valuable: to not be pidgeon-holed into doing just one thing," says Smith.
Raised in a military home, Smith was originally from Oakland, California, but has lived all over the country. She attended Fort Louis College in Durango, Colorado, where she received her Bachelor's degree and certification in non-profit management. Little did she know that she would also meet her future husband there.
"I actually moved away after I graduated and went to Los Angeles, but found myself coming back. I came back to Durango the year that he moved there and got a teaching position at my alma mater," says Smith.
"Her [former] teacher was one of my new friends, and he made it a point to introduce us," says Dr. Owens. "The rest is kind of history."
Dr. Doug Owens and Katie Smith were married in the spring of 2012. When asked about what their favorite part of each other is, Smith replied, "My favorite part about him is really that, if I am going to be married to somebody, it's really important to me that you find somebody that's open and is really able to look at a situation and consider 'Is there a different way of looking at this?' I feel like that was something I was really looking for in somebody. There's a lot of people that think they're right about everything all the time, and they're not going to change. I don't personally agree with that for myself, and I definitely don't agree with that for someone who sees no other interpretation than what they have decided is the right interpretation. So that's one of my favorite things about this guy. He's a life-long learner and is open to considering someone else's point of view."
"Interestingly enough, I think it goes almost hand-in-hand with what she said in that, to be very simple, she calls me on my bull," says Dr. Owens. "I think so often that people's understanding of what a friendship or what a relationship, or anything of that type, is that you surround yourself with people that sort of think the way you do. There have been many, many occasions that Katie has been anything but a yes-man for me, and I value her honesty and her ability to say 'I don't agree with this.' I think that challenge of if the person that you're with doesn't necessarily agree with you, then you're kind of forced to see things in a different way. At the end of the day, when you look at things in a different way, you grow as a human being, and I think that her ability to be sometimes outright challenging helps me grow. And I value that a lot."
Before coming to UTM, Dr. Owens taught at Fort Louis College for three years. "Before that, I was a student. I basically went straight through all my degrees from the start. I had one year off between getting my Doctorate and teaching."
Smith owned her own music contracting business, freelancing in various ways for different orchestras. "I was everything from a personal manager or orchestral librarian to an event coordinator, on the pop side of things, for a songwriters conference," she says. To this day, Smith still serves as events coordinator for the Durango Songwriters Expo.
"One of the things that I believe the older I get is truly that like attracts like," Dr. Owens says about his decision to come to UTM. "When I talked to my friend at Fort Louis about taking the interview at UTM, he looked me and said, 'Oh, that's Julie Hill's school, so that's a really good school.' I had no idea who Julie Hill was at the time, but when I arrived in Martin, I met, not only in Julie, but with everyone in the music department, a highly energetic team that aspired to a culture of excellence."
"I think, for me, I just followed the man. He was the one that got the job here, and I got married and decided he was worth sticking with," Smith said jokingly about coming to Martin. "With UT Martin specifically, I like the college atmosphere and had been looking for jobs. The coordinator's job fell in my lap. It was literally a case of being in the right place at the right time. When I found out about the position, I was like, 'Yes! This is me!'"
When asked about what his favorite part of UTM is, Dr. Owens said, "I think that, every day, I get to work along side people who are chasing excellence, how we can teach better, how we can do what we want to do as musicians and as people in better ways and students who buy into that. I have found myself, at UTM, surrounded with faculty and students who ultimately aspire to the same things I do, and I'm incredibly blessed to also be able to interact with administrators who value the same thing. The support that we get from Dr. Lynn Alexander and Dr. Smith has been incredibly encouraging to what we're up to."
When asked about the future, Katie said, "I feel like my work is done. When I came into the position, it was in serious disrepair, having been vacant for a whole year. Since then, I've made some serious changes. That's really what I like to do though: I like fixing things. I think in the future, I'll be working a lot with non-profits, because that's something I'm really interested in." Katie Smith will be stepping down as Coordinator of Student Organizations at the end of the fall semester to pursue her own interests, and we wish her the very best of luck in all her future affairs.
"I want every musician in the state of Tennessee to think UTM when they think of schools for music. I want every musician regionally and nationally to think UTM when they think schools for music," Dr. Owens said. "I also want students to be assured that they are truly ready for the workforce when they leave this university."