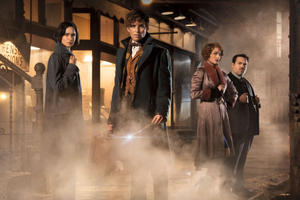 In a muggle world where Harry Potter fans constantly crave more, J.K. Rowling comes to the rescue in her screen-writing debut, "Fantastic Beasts and Where to Find Them."
Director David Yates returns audiences to the wizarding world of Harry Potter with a box office hit that made $75 million in the U.S. in its opening weekend. Though the main Harry Potter series takes place across the globe in England, this wizard story "apparated" across the ocean to 1920s New York City.
As all good J.K. Rowling stories, "Beasts" features an underlying governmental issue that created only one of the folds in this complex spinoff. Though new comers to the Potter series will probably leave the theater with more questions than answers, Rowling leaves her fans contented by the spectacular visuals and anxious upon the arrival of the next piece in this five frame series.
Named after a textbook that Harry Potter used at Hogwarts, the film tells the story behind that textbook's author, which is only beginning to be told in the movie. Newt Scamander (Eddie Redmayne) is a writer and "magizoologist" who travels to America to release one of his many creatures.
His menagerie of magical creatures lives inside a suitcase that could use a new latch. This character, though painfully awkward yet still mildly charming, is a literal wiz with a wand and knows more about capturing, nurturing and raising wild beasts than any of the wizards shown in the series thus far. Unfortunately, his ability to keep hold of his suitcase is not quite up to par, resulting in no-maj (the American term for muggle) Jacob Kowalski (Dan Fogler), an American factory worker with dreams of owning a bakery, being dragged into the story.
The movie's plot features a multitude of story lines, so much so that it can actually cause disinterest in viewers. Some of these subplots include Scamander having a quarrel with a nosey ex-auror named Tina (Katherine Waterston), the search for multiple of Newt's lost creatures and the underground society of American wizards. A few other small but notable plot lines throughout the movie feature character development subplots and possible peeks into themes of the next few films.
The question on everyone's mind is, "How does it compare to the Harry Potter series?"
As someone who has read every book, seen every movie and suffered very personal heartbreak when I never got my Hogwarts letter, I would say this movie is worth the price to get in.
The wizarding world of Harry Potter has something in it for everyone. Tales of government and romance, along with some very cute creatures, will keep the audience amused until the next time they have to beg J.K. Rowling for more. To quote the ever beloved Severus Snape, when you ask me if I would go see the movie again, I would have to say, "Always."
(photo credit/fandango.com)