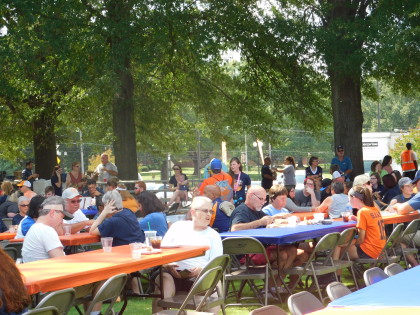 The first day of Family Weekend introduced students and their family to UTM, the Martin community and the local culture.
Pre-game activities on Saturday united students and their families with UTM personnel and community members, leading up to the football game against Tennessee State University at 4 p.m.
The day consisted of a 5k run, meet and greet session at the Martin Coffeehouse, tailgate festivities, musical performances, comedy, games and football.
Registration for the Bowtie 5k/1 mile walk with Chancellor Carver began at 8 a.m. on the Elam Center lawn. The race started there at 9 a.m. The course went past the tennis courts, baseball field, through the fitness trail, past Browning and Ellington dorms, and through the quad to finish back at the Elam Center.
There were 75 entries and the race was sponsored by Tennova Healthcare Volunteer Hospital. It was also organized by Eric Simmons, assistant director of Campus Recreation, with the help of Human Health and Performance lecturer, Laura Taylor.
Taylor has helped to organize 5ks before and was asked to help by Simmons. She kept time as well as placed volunteers on the course.
"Since they're HHP majors, I feel like it's important for them to know how to do something like this," she said.
This included one of her General Studies students, Madison Riggs, a freshman HHP major from Dresden.
Riggs was one of many volunteers who helped navigate the runners around the course.
"I was so surprised to see so many students since it's a Saturday," she said.
Many students and parents raced together including Engineering professor Tuba Tigrek and her son, Ibrahim Tigrek.
"It was hard for me to finish my first 5k then I forgot about it," Tuba said.
Her son attends a university in Istanbul and chimed in that his mother "did good for her first 5k."
Seyitriza Tigrek, also a UTM engineering professor, supported his wife and son at the finish line.
Donuts and Coffee with the UTM Deans and Martin City Mayor began at 10 a.m. at the Martin Coffeehouse. All of the college deans were present including Dr. Jennifer Greenwood, interim dean of the College of Engineering and Natural Sciences and Dr. Lynn Alexander, dean of the College of Humanities and Fine Arts.
Alexander called the event a "town gathering" and discussed how she liked the vouchers for the different events around campus and in the community.
"It's getting them involved on campus and martin so they can see not just the campus but the city," she said.
Greenwood said she was impressed by the crowd and called it a cool event.
Also present were family members and members of the community.
Roberta Peacock, C.E. Weldon Public Library director and Angela Summers, wife of fire chief Jamie Summers, were also in attendance, "mingling with the families."
The McDonald family, Sean and Jody, traveled from Washington State for the event to see their daughter, Hannah. Hannah is a freshman engineering major and a UTM equestrian team member. The McDonalds took two flights to get to Martin and ran in the 5k.
"We have found everyone is so friendly. It's a nice place to visit," said the couple, who also spoke about not being used to the heat and humidity.
The tailgate party followed at the Hardy Graham football stadium. Steel drum band, Jamaica Me Happy performed, followed by a show from comedian Buzz Sutherland.
Other games and activities included corn hole, ladder ball and a foot dart game provided by Campus Recreation. There was a photo booth and Zaxby's wing eating contest.
Chancellor Carver then joined Squawk Talk radio hosts John Hatler and Chris Brinkley for the on-air pregame show before the game against TSU.
"Coach Simpson and his coaching staff, our players, the sports staff and the help staff – our team – they've worked really hard, and they've put together a fantastic product," Carver said, addressing the crowd before the talk show began. "…We've always created a great environment for our student athletes and our fans to and we just thank you for being today."
The weekend concludes tomorrow with a brunch served from 10:30 a.m. to 1:30 p.m. in the dining hall.
(Family and friends enjoy the cookout at the Family Weekend tailgate party. | Pacer Photo/Kristina Shaw)