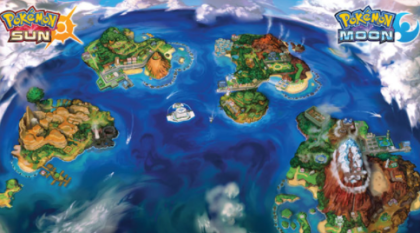 After what seemed like forever, the Pokémon world has taken players on an adventure unlike ever before.
Pokémon Sun and Moon was released to North America on November 18 to anxiously awaiting fans. So far, the reception is widely positive.
The games take the player to Alola, the newest region of the Pokémon world that is comprised of several islands. These islands house dozens of new Pokémon, as well as old favorites, some with special variations unique to the region. The game formula is the typically the same in some ways, but different in others. However, do these differences really matter to fans?
In Alola, you take part in the island challenge, and compete in trials and grand trials. While the concept is similar, these are not like the gyms in previous games. Instead of fighting multiple other trainers before taking out the gym leader, players must undergo certain challenges before facing a more powerful version of a local Pokemon, called a "totem" Pokémon. After completing the trials on an island, players must battle the kahuna, the best trainer on the island. There are four kahunas, one representing each island of Alola.
In addition to the island challenge, the game features a plot line that really breaks the mold compared to previous games. The story itself is engaging, and is full of surprising turns. to keep the player on their toes. This is not a game where players can simply autopilot like in X and Y. It's a bold change from earlier games, but some new features may bother players.
Going along with the theme of "keeping us on our toes," there are some moments during gameplay that the player won't know they're about to battle a trial captain, kahuna or a special Pokémon, where they would probably like to save the game beforehand.
Another change that has provoked debate is that when battling, you can see which moves are effective or not effective. While this is great for battling the CPU trainers during the story, battling other players with this feature can be really hard. Battles with the feature end up being battles where the winner is not necessarily a winner by knowing which moves are effective themselves, but a winner by having their Pokémon move first.
Each Pokémon game has received its fair share of positive (and negative) attention, but Pokémon Sun and Moon is on a different level. This game will keep players guessing and take them on journey that the other games haven't taken them on before. It's the perfect game to celebrate Pokémon's 20th anniversary.
Graphic credit | nineinchsandwich.com