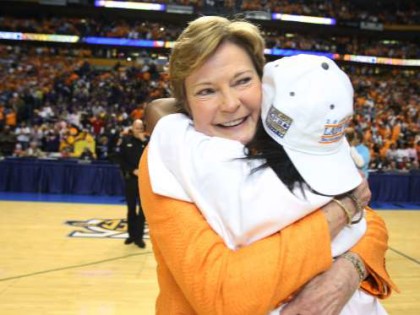 Former Tennessee Lady Volunteer basketball coach and UTM alumna Pat Summitt passed away Tuesday morning at the age of 64.
Summitt was diagnosed with early onset dementia five years ago,.  Her passing comes after the Knoxville News Sentinel reported early Sunday morning that Summitt's health was "struggling" and her family was "preparing for the worst."
Summitt was considered by many a pioneer for women's basketball and women's athletics.
Born as Patricia Sue Head, Summitt was born and raised in Clarksville, Tennessee until her high school years, when her family moved to Henrietta so she could play basketball at Cheatham County.  Summitt enrolled at UTM and played for the then Volunteers, later Pacers from 1970-1974.  Summitt played under UTM's first women's coach, Nadine Gearin, and recorded 1,405 career points, the 6th highest total in school history.
After graduating from UTM, Summitt took a graduate assistant job at the University of Tennessee and was later promoted to head coach.  During her 38-year coaching career, she won eight NCAA National Championships, 16 Southeastern Conference Championships and 16 SEC Tournament Championships.  She was also SEC Coach of the Year eight times, NCAA coach of the year seven times and was named Naismith Coach of the Twentieth Century.
Summitt finished her coaching career with 1,098 wins in 1,306 games coached, and was the first to coach in NCAA history to record 1,000 wins.
Summitt was also the first person to win an Olympic medal as both a coach and a player.  She won a silver medal as a player at the 1976 Olympic Games and a gold medal as a coach at the 1984 Olympic Games in Los Angeles.
Before the 2011-12 season, it was announced that Summitt was diagnosed with early-onset Alzheimer's Disease.  Summitt would continue to coach during the season, but announced she was stepping down as head coach after her team's Elite Eight loss to eventual national champion Baylor.
Summitt was known for her tough coaching style.  She not only did she demand excellence from her players on the court, but off the court as well.  Every Lady Vol player who completed her eligibility at Tennessee under Summitt graduated with a degree or is in the process of doing so.
For many decades, she was the face and the voice of women's collegiate athletics.  She was one of the vocal leaders in developing Title IX in college sports and the equal treatment of women athletes compared to men.
Summitt built a huge legacy for herself as a coach and a pioneer for women's athletics.  Both the courts at Tennessee's Thompson Boiling Arena and UTM's Kathleen and Tom Elam Center are named after her.  She also has two streets named after her, "Pat Head Summitt Street" in Knoxville and "Pat Head Summitt Avenue" in Martin.  On October 2012, a statue was dedicated to her, as well as former UTM Women's Athletics Director Bettye Giles and the late Nadine Gearin, as instrumental figures to women's athletics at UTM.  A statue was also erected in her honor at the University of Tennessee to commemorate her coaching career.
Summitt was inducted into the Naismith Memorial Basketball Hall of Fame in 2000 and the Tennessee Women's Hall of Fame in 2011.  She was named the Arthur Ashe Courage Award recipient at the 2012 ESPY awards and was awarded the Presidential Medal of Freedom from President Obama in 2011, the highest civilian honor in the United States.
(Feature photo credit: Shelley Mays / The Tennesseean)