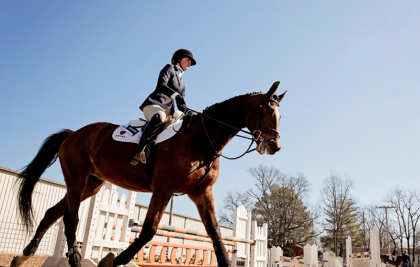 For the third week in a row, the UTM Equestrian Team is ranked in the top ten of National Collegiate Equestrian Association (NCEA).
After their win against No. 10 ranked Delaware State, the UTMeq took their position. This ranks them in the top 10 of the nation for the first time in over two years.
The competition format for collegiate equestrian teams has four events. The events are Hunt Seat Equitation Over Fences, Hunt Seat Equitation on the Flat, Western Horsemanship and Western Reining. In each event, riders are judged on the accuracy and smoothness that they use to complete their event.
The difficult part of equestrian meets is that visiting teams must use the home team's horses. Horses are randomly selected for the riders who can watch the horse warm up. They are then allowed four minutes to practice with the horse before their event.
On Oct. 13, the equestrian team traveled to Miami, Ohio, to compete against the RedHawks. At the meet, 16 of the 20 riders were making their debut performance. During the event, Jade Bleskey, a sophomore from Shelbyville, Indiana, took home Most Outstanding Performance in horsemanship. Hannah McDonald, freshman, also took home Most Outstanding Performance in her debut run in the reining division. The Skyhawks defeated the RedHawks with a final score of 11-8.
After this event, the NCEA released the current standings with UTM coming in at No. 10.
"It is amazing to be ranked as a Top Ten team nationally. Coming into the 2016-2017 season, our team of 16 returners grew to 37 riders," Bleskey said. "That's a total of 21 new recruits joining the ranks- over double the size of our team last year!"
Even though the Skyhawks did not have an event the following week, they still maintained their No. 10 ranking after the polls were released.
The Skyhawks have one more regular meet of the season on Nov. 9 and 10. The event will be held at the Ned Ray McWherter Agriculture Pavilion and is open to all students.
(Photo Credit/Sports Information)