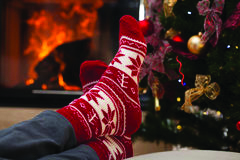 It is officially the first week of December. That means that the fall semester of 2014 is very quickly coming to a close.
All of us are frantically trying to put finishing touches on papers and projects, while still trying to prepare for final exams. We're doing all of this while still trying to keep it all together.
We, the Editorial Board of The Pacer want to stress to you all to stay encouraged, be motivated and look for the light at the end of that long tunnel of seemingly never-ending work. These next few days may be stressful, but they are most definitely worth it. Relax. Once finals are over, sit back, kick up your heels and enjoy your winter break. This has been a long semester, and we've all earned some down time.
We also would like to thank you for your support of  The Pacer. We appreciate you all for continuing to allow us to be your independent voice. We are wishing you all a safe, happy and healthy winter break. Enjoy your holiday festivities and all of your time with family and friends. Remember what this season is all about. Take some time to catch up on some of your favorite TV shows, read a new book or do absolutely nothing.  Recharge for the upcoming spring semester. We are wishing you all a very happy and prosperous upcoming new year. We are looking forward to continue bringing you the best, most timely news as it becomes available.