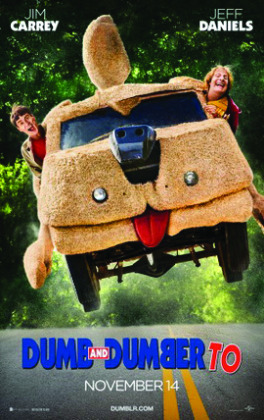 Dumb and Dumber To debuted this weekend and sadly not much, if anything, has changed in 20 years.
The sequel to the 1994 Farrely Brothers comedy classic Dumb and Dumber has been highly anticipated for quite some time now. Unfortunately the Farrelys failed to meet those high expectations.
The audience quickly learns that since they last saw the duo, Lloyd Christmas (Jim Carrey) has been in a coma, and like the great friend that he is; Harry Dunne (Jeff Daniels) has stuck by his friend's side. Ironically enough, this was all a terrible prank, and we are now all set for our sequel.
The audience also finds that even after 20 years Harry and Lloyd are still roaming the country like dummies in search for Harry's long-lost daughter (Rachel Melvin). The hope is that she can provide him with the kidney he needs to save his life.
This is about as creative as things get. The rest of the film feels just like the original.
The Farrely brothers didn't waste an opportunity to revisit each and every punch line and storyline from the first film. The men are still up to their same immature stunts. It's just so wrong on so many levels. They're running around acting like teenagers. The problem is that they are 50-something- year old men. It's hard to believe that it took a team of six writers to basically recycle a 20-year-old script.
There were a couple of cameos, though. One of them was Mama June from TLC's Here Comes Honey Boo Boo. This raises questions on why Jennifer Lawrence backed out of her cameo. There were a few good giggles though.
This film is nastier, cruder, ruder and somehow dumber than the original.
Now, in fairness, the audience should give credit to the Farrely duo for trying to give fans what they love. It's just a very sad case of too little, too late. Despite the wackiness of the film and bad reviews all around, fans were still drawn to theaters. Dumb and Dumber To topped the weekend box office with an estimated $38 million.
Featured photo credit: DumbandDumberTo.com