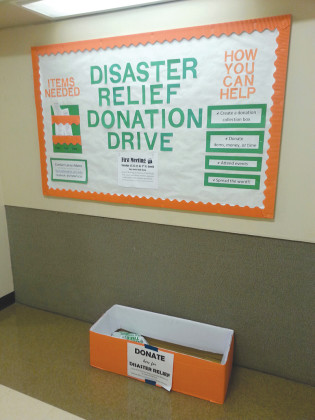 In light of the recent disasters that have taken place, members of the community of Martin and UTM have responded with relief efforts. The following is a list of such efforts that participants can get involved with, if they wish.
Student groups
The West Tennessee Association for Children's Early Education is sponsoring a donation drive (see photo, far right) with plans to go to southern Georgia during Fall Break. The drive is focusing on families with babies ages 0 to 3 and is collecting items that are essential to a diaper bag, such as diapers, wipes, baby soap, hand sanitizer, blankets and warm outfits for babies. The group also plans to have a bake sale somewhere on campus on Monday, Sept. 25. For more information, contact Lacey Adams at lacmadam@ut.utm.edu or check Facebook @UTMWTACEE.
One of Delta Sigma Theta's collection boxes with instructions is located on the third floor of Gooch Hall outside the Department of Family and Consumer Sciences(see photo at right). Other boxes can be found in the UC, Humanities Building, and Cooper and Ellington halls.
Zeta Phi Beta Sorority Inc. has raised money for Hurricane Harvey victims. Members donated to their graduate chapters to be distributed.
Alpha Kappa Alpha Sorority Inc. held a canned food drive Sept. 11-15 for Hurricane Harvey and Irma victims.
The National Pan-Hellenic Council (NPHC) is holding a Hurricane Irma donation drive with a box in the UC hallway. The drive is accepting all applicable items (clothing, hygiene items, non-perishable foods, etc.) through Friday, Sept. 29.
The UTM student chapters of the American Meteorological Society and the Association for Women Geoscientists are establishing an ongoing disaster relief fund, with proceeds to be distributed as needed when disasters occur. Money will be collected in donation boxes set up at organization events, such as the groups' table during Quad City. For more information, contact AMS President Chuck Taylor at chadtayl@ut.utm.edu, or AWG President Jennifer Naillon at jensnail@ut.utm.edu.
For more information on other greek or student organization efforts, contact Rachel Stephens in the Office of Student Life at rstephe5@utm.edu, or check OrgSync.
Church groups
Baptist Collegiate Ministries is planning a mission trip to Houston around Dec. 30 to Jan. 5.  For more information, contact Morgan Owen at 855-886-2261, or check the BCM website at www.utmbcm.org.
The Weakley County Baptist Association is working with Tennessee Baptist Disaster Relief to provide supplies for victims of Hurricane Harvey. They are accepting donations of hardware such as box knives, hoses, box fans, scoop shovels, push brooms and hammers, and paper or toiletry items. These include toilet paper, paper towels, baby wipes, diapers and more. For the complete list of items needed, call WCBA at 731-364-3739. Items can be dropped off between 7 a.m. and 6 p.m. every day except for Sunday at the West Tennessee Disaster Relief Collection Agency, 1040 Evergreen St. in Dresden.
First United Methodist Church of Martin will have a spaghetti luncheon fundraiser on Oct. 1, after the early and late services, in the fellowship hall. The meal is $5 per person and $20 per family.  There will also be a bake sale. Donations will be taken and 100 percent of the proceeds will go to the United Methodist Committee on Relief.
Trinity Presbyterian Church has raised $1,483 to send to Harvey relief, and is collecting supplies for cleanup buckets, which will be sent to disaster areas with teams from the Memphis Presbytery. Later supplies will be assembled into buckets and sent to the Ferncliff Disaster Assistance Center in Arkansas. Supplies needed include 5-gallon buckets with resealable lids, scouring pads, scrub brushes, sponges, dust masks, clothespins, clotheslines, 50-78 ounce boxes of dry laundry detergent, work gloves, latex gloves, liquid concentrated household cleaners (12-ounce size), liquid disinfectant dish soap (25-ounce size), cleaning towels, 24-count rolls of heavy-duty trash bags (33-45 gallon), and insect repellant (drops or lotion, not aerosol, 6-14 ounces). For more information, contact Rev. George Pasley at trinitypastor@frontiernet.net.
Other efforts
The Martin Rotary Club already has sent a donation to the relief effort.
Former UTM football player Joe Threats is currently helping with cleanup in his hometown of Port Arthur.  You can find him on Facebook.
Editor's note
Information for this package was gathered from various sources, including an email sent  campuswide to UTM. The Pacer will continue to gather information on relief efforts and to update this list on its website, www.thepacer.net. Please continue to send relief and donation information to faculty adviser Tomi McCutchen at tomimc@utm.edu.
(A donation box for the West Tennessee Association for Children's Early Education sits in Gooch Hall. Pacer Photo/Staff)