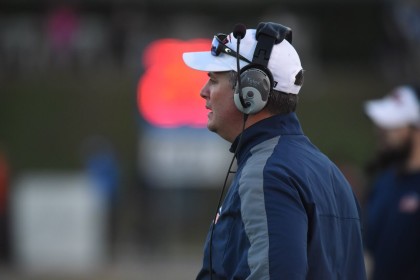 If you ask anyone associated with the Skyhawk football team, they will tell you that last year was a year of missed opportunities.
Despite claiming huge conference wins against Eastern Kentucky and Tennessee State and finishing third in the Ohio Valley Conference (up two spots from where they were predicted to finish in the preseason poll), the Skyhawks suffered two key conference losses to Eastern Illinois and defending champion Jacksonville State, both by single digits.
Add the two non-conference losses to Arkansas and Ole Miss and the Skyhawks not only missed out on an opportunity to clinch their second conference title, but just misses out on clinching an at-large bid in the FCS football national championship tournament.
However, Skyhawk head coach Jason Simpson has already put last season behind him and has focused himself and his team solely on this upcoming season.
Despite being picked to finish fourth in both the OVC Media and Preseason Poll, Simpson believes that this team has what it takes to get to the top.
"We always put ourselves in that case, that's kind of our mentality," said Simpson.  "We spend a lot of time defining and talking about the standard and that is our standard.  We always consider ourselves the dark horse."
Simpson enters this year as the longest current tenured head coach in the conference at 11 years.  Since his arrival in 2006, Simpson has won one conference title (2006), has claimed the Sgt. York Trophy four times (2010, 2012, 2014, 2015) and has yet to have an under-.500 team in conference play in his eleven year tenure.
Going into this year, the Skyhawks were picked to finish fourth in the OVC in both the media and preseason poll.  Even though the Skyhawks only have four returning starters on offense and five on defense, UTM has 65 lettermen returning this year, giving the Skyhawks an experience advantage.
But before suiting up for their first game against Cincinnati on Thursday, Sept. 1, The Skyhawks first need to address the openings at some key positions, and a few of those questions lie on the offensive side of the football.
The quarterback situation for the Skyhawks is one of the most important open positions on the team.  With Jarod Neal gone, the Skyhawks will look at a pair of Division-I transfer quarterbacks to lead the team.  Troy Cook, a transfer from Florida State, joined the team last year and was the backup behind Neal last season.  Cook played in four games last year and completed 11 of his 16 passes for 109 yards and one touchdown.  The other potential starter at quarterback is Marshall transfer Gunnar Holcombe.  Holcombe played in one game last season and saw action in nine games the year before.  In 2014, Holcombe completed 12 of his 21 passes for 119 yards and rushed for 66 yards.
"If there's one position that I'm concerned about, it's at the quarterback position," said Simpson.  "We've got two guys that are talented, but once again they have not thrown touchdown passes in the OVC.  That's where my biggest concern is, not from an athletic standpoint, just from a 'getting it done' standpoint."
Right now, Coach Simpson has yet to name a starter between the two and potential freshman QB Kyle Akin who redshirted last year.  However, don't be surprised to see Coach Simpson go with the dual-quarterback system that was successful for the Skyhawks two seasons ago with Neal and then senior quarterback Dylan Favre.
"At the end of camp, if they both earned the right, then they'll both play," said Simpson.  "If one really separates them self and gives us a better chance to win, then that guy will be the starter and the other guy will be their backup."
The running back position right now has been mostly dominated by returners Najee Ray, Jamie Bowe and Ladevin Fair; but sophomores Terry Norris, Marcus Laflore and Ty Brown along with transfers Marquez Grayson and Terrance Hollingsworth have really been impressive.
"I like our talent there," said Simpson.  "Jamie Bowe is all-conference talent, just new at learning pass protection and learning different things to do.  Trent Garland was such a reliable guy last year and [Ladevin Fair] had a good season and Najee [Ray] gives you a certain talent level there too.  We've also added Marquez Grayson, a transfer from East Carolina.  I like the depth at that running back spot.
Despite losing explosive wide receivers Rod Wright and William Tanner, the Skyhawks have plenty of talent at that position.  Caylon Weathers returns this year after receiving 62 catches for 726 yards and eight touchdowns.  Also returning this year seniors Kyle Kerrick and Ben Axline, who played some last season but were plagued by injuries.  Also, senior transfer Greg McKillon from Memphis has looked very impressive in summer camp so far.
The Skyhawks do have three of their four returning offensive starters at the offensive line.  Add in some transfers and some talented, experienced upperclassmen, Coach Simpson noted that he is very confident with this year's offensive line.
"I think our offensive line is going to be as good as it's ever been."
On the defensive side of the ball, the Skyhawks have five returning starters led by sophomore linebackers Kevin Prather, Jr. and James Gilleylen, senior linebacker Caleb Counce, defensive end Damani Taylor and nose tackle Keith Jones.  However, the Skyhawks have no returning starters in the secondary despite the fact that several of the projected starters on the preseason tentative two-deep are upperclassmen.
"I think we'll be better on defense this year than we were last year," said Simpson.  " I think the front seven is very athletic, very strong, very seasoned at several positions.  There are some new faces in the secondary, but last year's secondary gave up 25 touchdown passes, so we've got to get better in there whether its graduation or new guys step up and play another role.  That's got to be cut in half."
"We've added some guys through signing and through some transfer situations, so we expect to be better in the secondary."
Junior kicker Mitch Mersman will assume the kicking duties for the Skyhawks, and Tae Martin and Najee Ray will be the primary kick and punt returners.
The Skyhawks will open their 2016 season on the road for their first two game.  UTM will travel to Cincinnati to take on the Bearcats on a special Thursday night game and then will travel to the Aloha state to take on the Hawaii Rainbow Warriorson Sept. 10.  The Skyhawks will return home on Sept. 17 and Sept. 24 to take on NAIA Bacone College and Tennessee Tech in their conference opener.  The Skyhawks will travel once more on Oct. 1 to Nashville to take take on Tennessee State before returning home to face Austin Peay on Oct. 8 on Homecoming.
After two quick road games at Murray State (Oct. 15) and non-conference Georgia State (Oct. 22), the Skyhawks close out their season at home against Eastern Kentucky (Oct. 29), at Eastern Illinois (Nov. 5), at home against Southeast Missouri (Nov. 12) and at Jacksonville State ( Nov. 19).
Photo Credits: UTM Sports Information