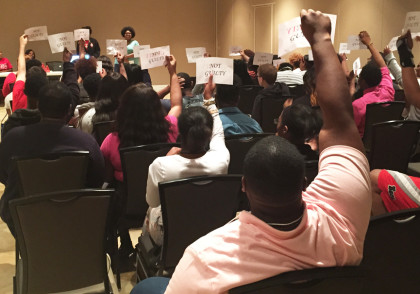 Tuesday, the Eta Xi chapter of Delta Sigma Theta Sorority Inc. hosted 'Plead the Fifth' in the University Center, room 225.
The event started at 6:13 p.m. and was an interesting event that gave students the opportunity to voice their opinions on different real life scenarios.
During the course of the event, students that came out were given different incidents where they could be guilty or innocent. They were given 30 seconds to explain why they were innocent. If they could convince the crowd they were innocent they received a prize.
The scenarios varied from cheating in a relationship, lying, stealing, and murder.
"It was different, that's what I loved about it", says freshman Education major Journey Tate.
The ladies of Delta Sigma Theta are hosting events all week for their 2015 Greek week. Events are created around the organization theme for the week, Unsolved: Crimson Chronicles.
For the remainder of the week the ladies of Delta Sigma Theta will continue to host events that follow the selected theme.
"We feel like we owe it to the campus to host events and try to get all of the campus out to enjoy them. I remember my freshman year and how Greek week was the time to get out and really enjoy the social part of college," says Kache' Brooks, Vice President of the Eta Xi chapter.
Find out Wednesday who's going to be the 'Mystery Man' at the Mr. Crimson and Cream Pageant. After the pageant there will be a Greek Mixer at the SAE house.
Thursday the campus will 'Kill the Runway' at their annual fashion show and Friday the ladies will hold a yard show and will award students at their DST awards.
For specific times for the events and more information on the Eta Xi chapter of Delta Sigma Theta follow them on their social media pages @etaxi_redz.
Feature photo credit: Maegan Jolley