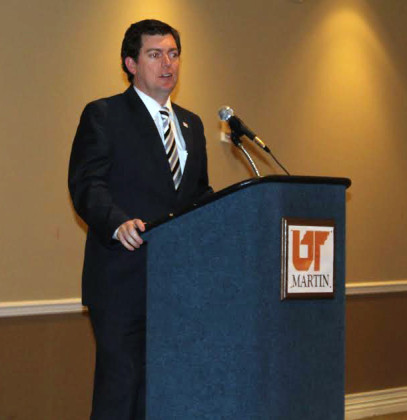 Dave Bratcher, president of the STAR Center in Jackson, Tennessee, spoke Nov. 2 at the annual College of Business and Global Affairs Career Day luncheon held at the Boling University Center Ballroom.
Dr. Ross Dickens, dean of the College of Business and Global Affairs, welcomed the students and faculty and introduced Bratcher, whose speech was titled "They Don't Call it the REAL World for Nothing." The speech gave advice to students about first-time success and perseverance..
Bratcher explained four lessons for students to reach their goals as they transition from higher education into the real world, which are relevance, excellence, attitude, and learning. He also gave advice to seniors who are approaching graduation.
"The quickest way you can regress that way is to stop learning," said Bratcher. "If you think that graduation is the finish line, you're wrong. It's the starting block. If you stop learning, you will become irrelevant. You've got to keep learning."
Bratcher grew up playing baseball, and continued playing through his time at Jackson Central Merry High School. He graduated from UTM in 2002 with a Bachelor of Science in Business Administration with emphasis in marketing. He started selling school pictures after graduation from college.
Bratcher entered the nonprofit field as the Vice President of Financial Services at the West Tennessee Healthcare Foundation. While there, he obtained his Master of Business Administration from Bethel University. He accepted the position of President of the STAR Center in January 2015.
The STAR Center is a facility that assists clients throughout West Tennessee with various disabilities to achieve independence.
Bratcher is also a Leadership Jacksonville graduate, WestStar Leadership graduate, Jackson's Finest award recipient, Jackson "40 under 40" recipient, John Maxwell Team Member, Jackson Sun weekly columnist, and Jackson-Madison County School Board Member.
"Your experience and expertise must be shown in this role," said Bratcher. "If you don't have experience, you need to get some."
Bratcher delivers his speech at the Career Day luncheon. (photo credit/Elysia Duke)