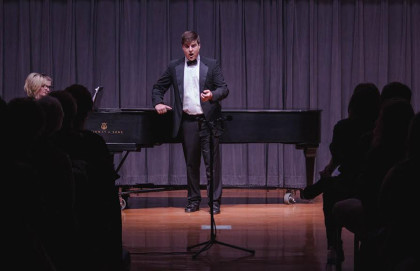 John-Alex Warner, Senior Vocal and Piano Education Major from Union City, Tennessee, got his passion for music from his grandmother, an opera singer who gave music lessons to the next generation of up and coming artists.
Starting with a seemingly helpless visit to the Orpheum in Memphis, Tennessee, with his grandmother when he was seven years old, Warner went on to chase his dreams.
At the age of eight he had his first performance, "Music of the Night" from "Phantom of the Opera" for one of his grandmother's voice recitals.
John-Alex believes his biggest musical accomplishment was his senior recital and concert reading of his own original musical.
Warner credits his progress to every teacher that has ever taught him.
"Teachers inspire me more than anyone else because they are contributing to your well-being in a nearly one-sided relationship where they are doing all of the giving and their students are doing the taking," Warner said. "I am the artist I am because of every one of my teachers in life and that's what inspires me!"
After graduating from UTM, Warner's ultimate goal is to self-publish his own musicals and to provide affordable musical theatre options to community theatre.
(John-Alex Warner at his senior recital Oct. 29. | Photo Credit/Chloe Dawn Lollar and Andre Espinoza)