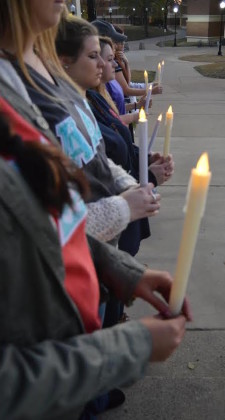 The University of Tennessee at Martin's Office of Student Health and Counseling Services hosted their third annual Stigma Cutting Ceremony at 5 p.m. Wednesday, Nov. 16.
The event was focused on letting students struggling with mental health issues know that they are not alone.
"We don't want our students to face these struggles in silence," said John'Na Webster, Health and Wellness educator. "We want them to know that help is here, and that Student Health and Counseling can provide the resources that students need, even if it's just to talk."
The event opened with a walk from the University Center to the Student Health and Counseling Services building to represent the journey taken by those who struggle with mental health. Participating students carried candles along the way.
Westview High School band members volunteered their time to lead students with music as they walked from building to building. They played the song "Hallelujah," written and sang by Leonard Cohen in 1984.
The walk ended at the Student Health and Counseling building, which was decorated with strings of lights. In front of the podium was a ribbon with "stigma" written on it. Kelly Lance, senior Health & Human Performance major, shared a poem to start off the presentations.
Students then heard from Joanne Perley, West Regional Coordinator for the Tennessee Suicide Prevention Network. Perley spoke about the importance of students using resources around them if they are having troubles dealing with different mental health problems. During her speech, she focused on how help is available at UTM and can be utilized, especially in the rough years of college.
Yvannah Garcia, senior biology student and president of the UTM National Alliance on Mental Illness, spoke next about her personal mental health struggles. Garcia spoke strongly about not letting her mental health define her as a person.
"Mental illness doesn't determine who you are," said Garcia. "The only difference is in your brain chemistry. Don't let this define who you are."
To conclude the ceremony, Garcia took scissors and cut the stigma ribbon to represent the dismissal of negative perceptions surrounding mental health struggles.
Free counseling is available from 7:30 a.m. to 5 p.m. in the Student Health and Counseling Services center on campus. Appointments can be made by calling 731-881-7750.
Feature photo: UTM students gather on Nov. 16, 2016 to stand up to the stigma of mental health with a candlelight march through campus. (Pacer Photo/Kathy Fellman)