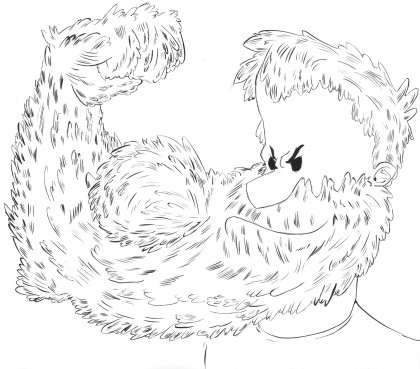 As we enter November, many prepare themselves for Black Friday shopping, hunting seasons, Thanksgiving dinners and daylight saving time.
There is also a relatively new November tradition that mainly males participate in, known as "No-Shave November."
During "No-Shave November," men become acquainted with not shaving and letting their hair and beards grow freely like mountain men.
This effort begins on Nov. 1 and will go on until Dec. 1 in an effort to bring increasing awareness for prostate cancer.
Many men have already started to let their hair grow in full but women should not think that it's just for males, they can join in on the fun as well.
Beside every great man growing a mustache, there is an amazing woman that can let her hair grow as well. Women should know that they are a driving force for men's health awareness and provide much needed encouragement for the beard-growing campaign. Women should give men kind words of encouragement, a nod, wink, or a smile of recognition to help men this month in navigating their beards and mustaches.
Men and women both are encouraged to grow their hair, since many cancer patients lose their hair upon medical treatment. participate by growing a beard, maintaining a mustache, let those legs get mangily, or skip a wax appointment. People are to save the money that they would usually spend on shaving or grooming, and donate it to cancer research and treatments.
For individuals that will not be joining these bearded rankings, you may raise awareness by wearing the designated color for prostate cancer awareness sky or baby blue. A sky blue silk ribbon was adopted to help with raising awareness, show support, and give inspiration and strength for victims of prostate cancer, and the families of the victims.
The American Cancer Society and No-shave.org, have teamed together so that ''No-shave November'' is better recognized. ACS is investing all donations into groundbreaking cancer research, and providing information and services to patients. To find more about prostate health and how you can participate in the "No-shave November'' movement visit www.no-shave.org.
Graphic credit: Joey Plunk