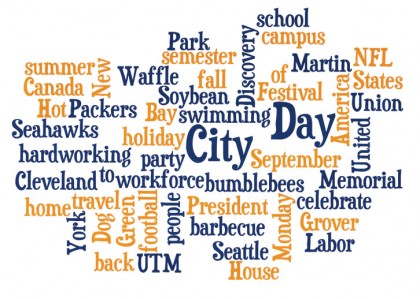 Historically, Labor Day has been a day set aside to honor the hardworking people of the United States and Canada, celebrated on the first Monday in September
For the majority of people, it is a time to enjoy the final days of summer and to commence the coming of fall. It is the end of bumblebees and barbecues, and time to embrace the beginning of falling leaves and football. It kicks off both college and NFL football seasons and traditionally symbolizes back-to-school season. It is the both the beginning and the end.
I encourage students to use this Labor Day weekend as an opportunity to enjoy one last summer fling before really buckling down for the coming school year. Since there's no class on Monday, why not enjoy one last mini summer vacation?
For students unable to travel out of town, the Soybean Festival will be going on in downtown Martin from Aug. 28-Sept. 6. Go visit the Discovery Park of America in Union City. Have that final backyard barbecue and swimming party. Do something fun that really represents summer and come back to campus ready for a successful fall semester.
Now, for all of you trivia buffs, here are some fun Labor Day facts:
• The first Labor Day was actually a rally for 8 hour work days and better working conditions. It was held in New York City on Tuesday, Sept. 5, 1882.• Oregon was the first state to make Labor Day a holiday in 1887.
• President Grover Cleveland signed Labor Day into law as a federal holiday in 1894. That was when it officially started being observed on the first Monday in September.
• Pass the syrup, please! Waffle House opened its first restaurant in Avondale Estates, Georgia, on Labor Day in 1955.
• Labor Day is the official end to hot dog season. According to the National Hot Dog and Sausage Council, hot dog season begins on Memorial Day and ends on Labor Day. Who knew?
• Traditionally it was considered unacceptable to wear white after Labor Day. That tends to be a custom done away with these days.
• As previously mentioned, Labor Day is the unofficial kickoff for the NFL. The season begins on the Thursday after Labor Day 99.44 percent of the time. This year the Green Bay Packers face the Seattle Seahawks.
Thank you to all Americans who are in the work force, have been displaced and are searching for employment, retired, and students who are studying to someday be in the working world.
Enjoy your holiday weekend; you've earned it.
Graphic Credit: Sheila Scott