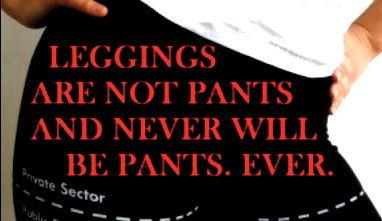 In today's society, many things are considered to be the "new'' norm. It's normal to have divorced parents, it's normal for individuals to have a child without being married, but is it normal to wear leggings as pants.
My question is why not? Leggings are comfortable, and with the right outfit choice you can dress them up or down. My friends and I normally tend to dress them down with an oversized t-shirt. However, leggings worn with the right tunic and heels can be sure to get you a date and make the guys heads turn.
UTM Junior, Stokely Price says, "I must admit leggings are a distraction."
This has some of the UT Martin professors concerned that the adminstration may need to put a dress code in place to keep other students particularly male students from being distracted. This has caused a debate between many students.
College is suppose to prepare you for the workplace, right? So, should UT Martin students be required to dress professionally to class? My opinion is, no. However, I do think it is always best to look presentable because you never know who you will meet or impress.
I think that with the right outfit choice, women could get away with wearing leggings in the workplace or to class. It's important to remember to wear a tunic, dress, or t-shirt that is long enough to cover your butt no matter where you are going.
UTM Senior Reid Rickett says, "Girls that wear leggings, but don't wear something long enough to cover their butts look trashy."
College has taught me to keep it classy and not trashy. With this being said, leggings can be worn as pants if you have the proper attire. Ladies just make sure you wear something long enough to cover your buttocks and you will forever look fabulous.