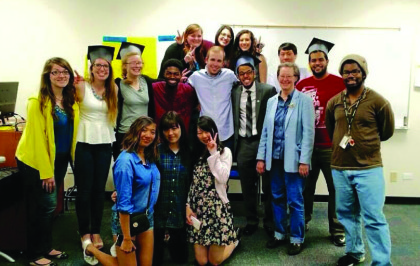 A memorial bench funded by the International Club will serve as another element at UTM to honor former professor, Sandra Koch.
It was announced on the club's Facebook page on July 3 that they exceeded their $2000 goal by $300, raising a total of $2300.  The commemorative bench is said to be placed on campus soon.
"I'm really proud of what the club was able to accomplish," said Dr. Carrie Humphreys, club advisor and assistant professor of Political Science. She credited graduate Nathan Daniels for taking the initiative to honor Koch.
Daniels was a founding member of the International Club and served as its first president in 2014. He also served as the SGA Multicultural Affairs Chair. He graduated on Dec. 10, 2016 with a major in International Studies and a French minor. Currently he works for a non-profit community health center in Savannah. Before graduation he researched and discussed different commemorative ideas and established a fundraising account with Alumni Relations.
"I hope that this memorial bench and plaque will keep her memory and legacy alive at UTM for years to come," Daniels said. "… I want to come back to UTM someday with my children and tell them about the professor and role model that inspired me to pursue public service and change the world."
Funds were raised through the UTM Captain's Challenge. The annual event collects donations for different colleges, departments, student organizations and projects around campus and can be matched dollar-by-dollar. Members of the club, along with Daniels and Humphreys, reached out to other faculty, family, friends, the community and acquaintances to donate.
Koch passed away on Aug. 31, 2016 after battling cancer. During her time at UTM, she served as interim coordinator for the Office of International Studies and lectured part-time for the department of Accounting, Finance, and Political Science.  Before teaching political science and international studies at UTM, she was editor of the Memphis Parent Magazine; a free-lance writer for the Memphis Flyer, Memphis Magazine, Memphis Business Journal and Tennessean; reporter for the Tullahoma News; associate editor for the International Business Monitor; an Arabian Gulf news stringer based in Bahrain; and an associate editor of Business International.
Her husband is Dr. Malcolm Koch, Executive Director of the Center for International Education.
"I very much appreciate this student initiative," said Malcolm. "Sandra was truly student-focused."
Along with her husband and the Department of Political Science, she helped develop the International Studies' Strategic Studies concentration. This path prepares students to work with various government agencies in different capacities.
The couple also worked with Daniels to establish a Multicultural Center on campus, student legislation for which has been passed and given to Chancellor Carver.
Additionally, she helped the Savannah native to acquire two internships in Washington, D.C. and helped procure funding for his abroad study in France.
"She encouraged and inspired me on a daily basis," Daniels said. "There are many students that could share similar stories of how she helped open doors for them."
The Kochs frequently invited international students to their home as part of cultural exchange and arranged places for some foreign students to stay.
Since her passing, she has also been memorialized through the renaming of the College of Business & Global Affairs' Travel Study Grant, now known as the Sandra Koch Travel Study Grant.
The International Club is made of roughly 20 students that meet once every other week. They take part in Diversity Week and Quad City activities, as well as have game and movie nights and sports days. Humphreys will begin her second year as the organization's advisor and international studies assistant professor. She met Sandra in August before her start, even though she resided at home in hospice care.
"She still wanted to meet with me at her home and try to pass along useful information and things to be aware of to get me started," Humphreys said. "She was a teacher and mentor until the very end."
A photo from an International Club graduation party in April 2015 shows former professor, Sandra Koch (middle row, second from left) celebrating with graduate Nathan Daniels (middle row, fourth from left) and other club members (Photo credit/Nathan Daniels).