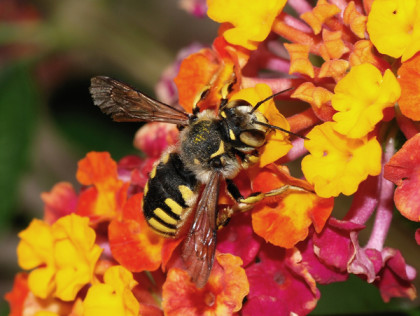 General Mills has joined in on the effort of saving bees from extinction.
In addition to removing mascot character Buzz the Bee from boxes of Honey Nut Cheerios, the company began distributing small amounts of wildflower seeds to customers. The seeds were included as a measure to help increase bee populations across the country.
General Mills posted on the Cheerios website that the #BringBacktheBees campaign has given away 1.5 billion seeds, and is now out of seeds to distribute.
However, the question that bee lovers must ask is: "Are the seeds safe?"
Certain kinds of flowers are not native to the United States, and are considered invasive species. According to Lifehacker, Forget-me-not seeds are banned as a noxious weed in Massachusetts and Connecticut, and the California poppy is considered an "invasive exotic pest plant" in the southeastern states. Many of the flowers on Lifehacker's list are not native to the United States and would not be considered "good matches" for the local bees. 
"Many species can and have caused a great deal of damage when they are introduced into locations outside of their native range," said Kathryn Turner, an ecologist specializing in invasive plants.
"Invasive species can out-compete the natives they encounter," Turner added to the site. "They can take up all the space and use up all the resources, they can spread disease and cause other physical changes to their new homes, all of which can have detrimental effects on native species and on humans."
As complaints poured into the Cheerios' Facebook page over the weekend, the cereal brand released a statement in response to concerns of invasive varieties. 
"The seed varieties in the mix are not considered invasive," Cheerios responded. According to the company, the seed varieties "were selected for their flowers which produce nectar and pollen that are attractive to bees and other pollinators."
It is possible that Cheerios distributed seeds to an incompatible region that could go into the ground and spark an invasion (or add to a pre-existing one), but they are not the brand's only effort at saving bees.  General Mills announced that Honey Nut Cheerios plans to plant more than 3,000 acres of bee habitat, including nectar- and pollen-rich wildflowers, on oat farms by 2020.
Several species of bees have experienced extreme declines in recent decades. The bumblebee has become endangered for the first time, according to the U.S. Fish and Wildlife Service. 
Cheerios said that customers who are unsure about their pack of seeds or who missed out on the giveaway should purchase wildflower seeds at a local garden store where experts can assist customers in choosing safe seeds to plant.
I believe that if anyone wants to consider wildflower seeds, it is best to do extensive research online first before driving to a garden store to consult with an expert. The legitimacy of an online offer, as in any product, must be researched first to prevent a company from taking advantage of customers. It is also important to read the labels carefully before planting anything in your garden.
(Photo Credit/creativecommons.com)