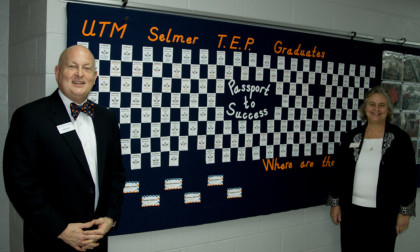 With only three stops left on his "Cruisin' with Carver" tour, and having completed a bit more than a month on the job, UTM Chancellor Keith Carver summed it up quickly: "It's all been great."
The tour of West Tennessee has been "energizing, great fun and very informative. We've met with prospective high school students, guidance counselors, alumni and community leaders," said Carver, who was chosen in October 2016 as the 10th chancellor of UTM. His remaining tour stops are scheduled for Feb. 15 in Union City, Feb. 16 in Somerville and Feb. 23 in Ripley.
"The enthusiasm around the UTM story has been exciting to witness first-hand," he said, adding that many of those he has met are particularly interested in the economic impact study completed last year, as well as the initial results of the Gallup-Purdue alumni survey. The initial findings have been praised by campus leaders as excellent in terms of alumni satisfaction with the university.
During the tour stops, Carver said, no one has brought up UTM's accreditation status, which improved greatly when the university was removed from SACS probation in December.
"We'll always keep our eye on the accreditation status moving forward, but I feel that assessment and constant program evaluation has become a part of the culture for the UT Martin community," he said. "The work that went into the SACS probation response was inspiring."
Enrollment also remains an area for improvement, and Carver said he believes that UTM's accreditation status and enrollment management are "everyone's responsibility."
"Our teams across campus departments and in the colleges are committed to looking at best practices for collecting, reporting and responding to data.
"In terms of enrollment, our team has developed some target enrollment goals and are monitoring those on a weekly basis. We are also working diligently to make the application process more efficient, adopt the best practices related to retention, and maximize our budget related to admissions and recruitment. Our faculty are our best recruiters, and their commitment to the enrollment management culture is essential to continued success. The faculty are also keys in the advising area," he said.
"Finally, our student life team does a great job in making sure that our students are supported in efforts outside the classroom. Whether it's activity through the Student Success Center, interactions with clubs and organizations or through the advising process, our campus community is working to embrace the best practices related to recruiting, retaining and supporting our students."
Carver said he has enjoyed meeting faculty, staff and students, reconnecting with his friends throughout the region, and advocating on behalf of UTM.
"It's a campus filled with people who are friendly and devoted to their work. Our students … have been extremely welcoming. I've had several opportunities to work with them already, and I anticipate getting to know them much better as the various clubs and organizations become more active this semester," he said.
"I've also had several opportunities to see our athletic teams in competition, which is always fun," Carver said. "I'm a competitive guy, and I enjoy supporting our students and coaches on (and off) the field of play."
The worst part of his job so far, he said, is not related to campus.
"During a recent cold snap, my heat went out," Carver said. "Not having hot water for a few days made me appreciate modern conveniences."
Dr. Joyce Swan, associate professor of Educational Studies, has taught teacher education students for UTM since the university began offering courses in McNairy County. A bulletin board in the McNairy County Center/Selmer features the names of all teacher eduction graduates from the center, starting with those who received degrees in 2006. Including the most recent graduates, more than 150 students have earned teacher education degrees through the center. Chancellor Keith Carver joins Swan to recognize the accomplishment during the Cruisin' with Carver tour stop Feb. 2 in Selmer. (Photo Credit/University Relations)